This article is 8 years old. It was published on April 1, 2012.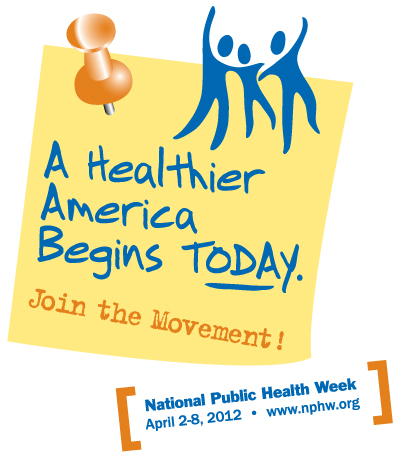 National Public Health Week 2012
                     A Healthier America Begins Today: Join the Movement!             
Since 1995, the first full week of April has been celebrated as National Public Health Week (NPHW) to recognize the contributions of public health and highlight issues that are important to improving the public's health. This year, the theme of NPHW is A Healthier America Begins Today: Join the Movement!
The City of St. Louis Department of Health will kick-off NPHW in the lobby of the Abrams Building (1520 Market Street) on Monday, April 2nd at . Monday through Friday of that week there will be an information table set-up in the lobby from promoting public health. Each day visitors will have access to important health information, interactive activities, and free give-a-ways. Every day will feature a different section of the Health Department. Topics being highlighted will include active living and healthy eating, living tobacco and drug-free, preventing communicable diseases, promoting sexual health, disaster preparedness, and mental well-being. Come join us each day for free information and help promote public health in the St. Louis region. 
Department of Health
City of St. Louis

Department:


Department of Health


Topic:


Health