This article is 8 years old. It was published on November 1, 2012.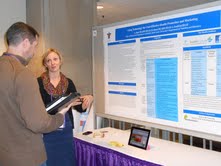 Nutrition Services Promotes Health Innovations
Nutrition Services professionals recently took the opportunity to share some of the innovative things they have been doing in health promotion with their professional colleagues. On October 9th, Lauren Landfried, registered dietitian, presented a poster titled "Using Technology for Cost-Effective Health Promotion and Marketing" at the annual Academy of Nutrition and Dietetics Food and Nutrition Conference and Exposition (FNCE). FNCE provides an opportunity for dietetics professionals from across the nation and international locations to come together and exchange knowledge regarding innovations in the profession. Nutrition Services took advantage of this opportunity to share some of the innovative ways they are using technology through the Health Promotion, Education and Marketing Division of the City Health Department.
Nutrition Services is an innovation in itself. This unique partnership pairs dietetics professionals from Saint Louis University with public health professionals to find creative ways to impact health in the City of St. Louis. One of the hallmarks of this partnership is the use of technology. Health Promotion and Nutrition Services have acquired resources and adapted technology like social media to find new ways to reach people and get health messaging in their hands. Some of the techniques used include posting routine and emergency health messages via Facebook and Twitter, and using a designated website, The Health Institute, as an outlet for nutrition information, community events, and fun recipes. Current iPad technology is also being used on-site at health fairs to allow participants to test health applications (apps) and connect to internet resources like our web-based Small Changes for Health 2012 program.
Health Promotion and Nutrition Services are committed to reaching the public where they are with timely and pertinent health messages that can promote healthy behaviors and ultimately improve health. There are several other creative endeavors in the planning stages. If you would like to know more or partner with us, please contact us at 314/657-1480.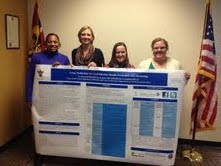 Department:


Department of Health


Topic:


Health