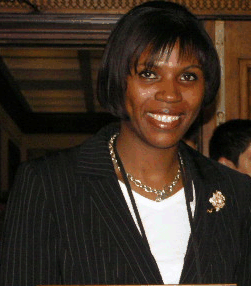 Getting Prepared for Winter Emergencies
Winter can be a challenging time for many residents, especially if they are not prepared for emergencies. Deaths can occur in the winter based on prolonged exposure to extremely low temperatures or freezing water. Sometimes residents use unapproved heating devices which may expose them to carbon monoxide. Outside pets may suffer frostbite or death in extreme temperatures. On a more basic level, people can even be challenged by more common events. For example, if your power was out for an extended period of time in the winter, could you quickly locate the emergency supplies you would need? Would you have a plan if you had to evacuate your home? If you can relate to any of these scenarios, you may need to learn more about what to do when severe weather strikes.
Shontae Fluelen-Hays is leading the effort to reduce unnecessary deaths and injury due to inclement weather. She coordinates the health department's newest program, the Severe Weather Public Health Protection program. "My main function is to provide the community with as much useful information as possible related to emergency preparedness for severe weather. One of my personal goals is to take the "fear factor" out of emergency situations and replace it with an understanding of local response activities, available community resources and empowerment, so that individual citizens can be reasonably prepared for all types of situations" says Fluelen-Hays. 


Winter officially begins on December 21st each year. In honor of the advent of winter, Fluelen-Hays has organized a special event which will be held on Wednesday, December 19th in the First Floor Community Room located at 1520 Market Street. This event provides an opportunity for participants to learn more about the agencies and organizations that respond to their needs during winter emergency situations and access the resources they need to be prepared. Participants will receive winter weather-related information and tips about how to best prepare for winter emergencies. Participants can also receive free flu shots, free smoke detectors, and citizen training for emergency response, as well as information on healthy eating, food safety, and overall emergency preparedness. A highlight of this event will be the raffle of an emergency (72-Hour) preparedness bag. By the time they leave, all participants will not only have great information about winter weather/emergency preparedness, but the beginnings of a personal emergency kit to build upon.
This event is free and open to the public.City employees and all other residents are encouraged to attend. If you need additional information regarding this event or winter emergency preparedness, please contact Shontae Fluelen-Hays at 314/657-1436.


Department:


Department of Health


Topic:


Health