Bill Siedhoff, Director of the city's Department of Human Services received the McGough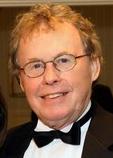 Award from the National Convocation of Jail & Prison Ministry at their national meeting held in St. Louis May 15-18, 2011. This year's convocation was called "Presence on the Edges" that focused on issues affecting persons before, during and after incarceration. Mr. Siedhoff also served as the keynote speaker at their closing dinner.
The National Convocation of Jail & Prison Ministry (NCJPM) was founded in 1979 and initially sponsored by the National Federation of Priests' Councils. Since then it has developed into an independent ecumenically based movement that meets yearly in host cities around the country. The Convocation provides a forum where volunteer correctional ministers and institutional correctional chaplains can address issues in the criminal justice system which has resulted in Restorative Justice initiatives as expressed in their mission statement.
The McGough Award is named after Father J. Michael McGough who was a priest of the Archdiocese of Detroit and part of the Convocation from its beginnings. Having a passion for justice he volunteered time for many years visiting prisoners and working tirelessly with hundreds of indigent defendants. He passed away in 1985 and in his honor the Convocation established the Mike McGough Award. The award is given to a person who, in the mind of the selection committee, embodied something of the spirit of this man which they also believe to be the spirit of the Convocation. Past recipients have included former U.S. Senator Ted Kennedy of Massachusetts and former Governor of New Mexico, Toney Anaya.
This year's honoree, Bill Siedhoff, has played a key leadership role in re-entry efforts at the local and state level. For the past six years he has served on the state-wide steering committee of the Missouri Reentry Process (MRP) of the state's Department of Corrections and plays a central role in St. Louis in developing programs and resources to assist those individuals returning to the community from correctional facilities. He has been honored and received many awards during his impressive career including last year when he received the Defendant/Offender Workforce Development( DOWD) Award from the National Career Development Association at their convention in Dallas, Texas.
Department:


Department of Human Services


Topic: