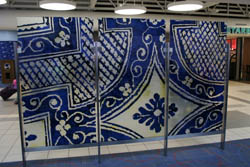 Just in time for the busy Christmas holiday travel rush, Lambert-St. Louis International Airport officially ended a year-long renovation of the A Concourse.  The final set of newly redesigned restrooms in Concourse A (Delta, United and US Airways) is now open near Gate A2.  The Airport celebrated the renovation completion by unveiling two more sets of art glass screens created by St. Louis area artists.
Lambert also reached a major milestone in its terminal renovations with the opening this week of the newly configured checkpoint lanes for B and D Gates (American, Frontier and Cape Air).  New terrazzo flooring and an expanded post-security area are part of the project.  The checkpoint is operating with four lanes and will expand to eight once other phases of the checkpoint project are completed.
The concourse and terminal improvements are part of Lambert's $70 million renovation campaign called the Airport Experience Program.  Concourse A has seen a dramatic change through 2011 with new tile in the central corridor, new circular lighting, brighter ceilings, new carpet, new signage, new digital directories and fully renovated restrooms.  All restrooms feature ADA-compliant counters, restroom stalls and restroom fixtures along with new lighting, new tile wall surfaces and terrazzo flooring.
The Airport Experience also launched Lambert's new Art and Culture Program.  The art glass screens are the Airport's first commissioned works of art in two decades.  The final installations in Concourse A include Edna Patterson-Petty's A Whimsical View at Gate A8.  Patterson-Petty, a multi-media fabric artist, created a design based upon a deconstructed quilt.  Gate A4 features Lauren Adams' Untitled (Missouri Coverlet Abstraction 1850s to 2010).  In this work, Adams has created an interpretation of an 1850s fabric coverlet that is in the collection of the Saint Louis Art Museum.  The concourse now features four works of art consisting of three side-by-side glass panels measuring 5.5 ft. high and 3 ft. wide.
Five more sets of art glass panels will be installed in Concourse C following its full renovation scheduled to be completed in April 2012.
Lambert-St. Louis International Airport
City of St. Louis
Department:


St. Louis Lambert International Airport


Topic:


Airports
Arts and Entertainment Events