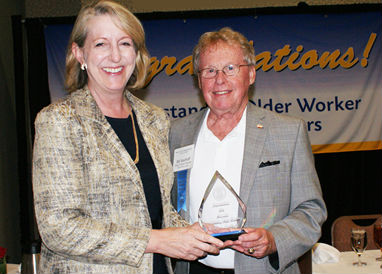 Bill Siedhoff, right, one of Missouri's 2014 Older Worker regional winners, accepts his award from Gail Vasterling, director of the Missouri Department of Health and Senior Services.
The 24th annual Older Worker of Missouri contest began collecting nominations in May of this year to recognize older Americans for their contributions.  This year there were 10 winners from across Missouri.  MERS Goodwill coordinated the contest in the St. Louis Area and St. Charles, Jefferson and Franklin counties.
Bill has been the Director of the City's Department of Human Services since 2001.  He is our resident expert on social service programs in St. Louis and is especially known for his deep engagement in addressing the needs of homeless people in St. Louis.
Throughout his career, Bill has shown outstanding problem solving skills when it comes to issues in the St. Louis community, and he currently serves on more than 30 boards and committees at both the local and state levels.
Other 2014 Regional Older Worker Winners are: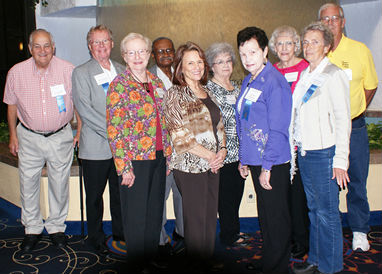 Back row:  (left to right) Kermit Klatt, Jefferson City; Bill Siedhoff, St. Louis; Tommie Fountain, Fredericktown; Wilma Massey, Joplin; Norma Moldovan, Warrensburg; Lester Pinner, Poplar Bluff

Front row:  (left to right) Jeanette Adams, Parkville; Carla Incerta, St. Charles; Dorothy Weiskopf, Sullivan; JoAnn Stahlin, St. Joseph.
Department of Human Services
City of St. Louis
Department:


Department of Human Services


Topic:


Employees