This article is 8 years old. It was published on May 1, 2012.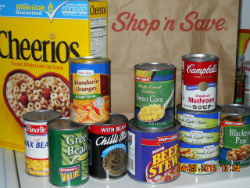 It's hard to have a healthy diet when you are worried about where your next meal is coming from.  That is the concern of many low-income individuals in this area.  Many of them depend on their neighborhood food pantries and the generosity of community members who donate to help them make it through the month.  Knowing that, a canned food drive was an ideal project to take on during the month of March, otherwise known as National Nutrition Month.
The theme for the 2012 National Nutrition Month was "get your plate in shape", inspired by USDA's Choose My Plate.  Taking a cue from that slogan, Nutrition Services sponsored a canned food drive and encouraged their coworkers to help "build a plate" for someone in need.  Employees were encouraged to drop off non-perishable food items in the Health Institute.  All items collected would be delivered to Operation Food Search, a local food bank that supports many food pantries in the greater St. Louis/Metro East area. 
The response of the Health Department employees was overwhelming!  As an agency, the City of St. Louis Department of Health collected a total of 174 pounds of food.  This equates to feeding about 44 individuals.  Thanks to all Health Department employees for your donations.  Nutrition Services looks forward to holding another food drive next year.  We know through the generosity of our agency, we will be able to surpass this year's amount and feed even more people.
Operation Food Search is a community partner of the Health Institute.  If you would like to help feed people in need, Operation Food Search has some wonderful opportunities for you.  Please contact them at (314) 726-5355 or by email at: info@OperationFoodSearch.org.  You can also check them out at: http://www.operationfoodsearch.org.
Health Department
City of St. Louis

Department:


Department of Health


Topic:


Health