This article is 10 years old. It was published on February 1, 2012.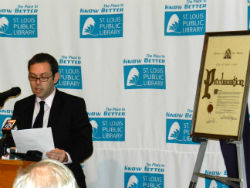 St. Louis Public Library celebrated the 100th anniversary of Central Library's opening with a ceremony and tour on Friday, Jan. 6.  The ceremony included the presentation of a Mayoral Proclamation by Josh Wiese, Special Assistant to Mayor Francis G. Slay.
The tour provided a fascinating update on the progress of the landmark's $70 million restoration and renewal project currently underway.  Guests on the tour caught a glimpse into what the revitalized Central Library will feature when it reopens to the public later this year.
Congratulations on 100 years!
Mayor Francis G. Slay
City of St. Louis

Department:


Office of the Mayor