Last month, the St. Louis City Commissioner of Health issued an Order mandating the type of design specifications of chains used to restrain animals.  The new guidelines will put an end to the abusive practice of using truck, tractor or hardware chains to restrain animals.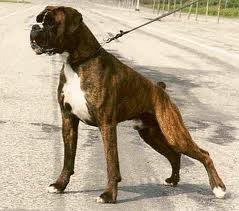 "Animal cruelty will not be tolerated in the City of St. Louis," said Interim Health Director Pamela Rice Walker.  "We encourage all residents to report illegal chaining and animal abuse by contacting the Citizens' Service Bureau at (314) 622-4800 or http://stlouis-mo.gov or @stlcsb on Twitter or by calling the Stray Rescue animal abuse hot line at (314) 771-6121 ext. 232. The City will respond to anonymous calls." 
This action strengthens an existing City ordinance that defines tethering as "attaching a dog or cat to a stationary object or pulley run by means of a chain, rope, tether, cable, or similar restraint." The Ordinance also requires the tether to be at least 15 feet in length with a swivel at both ends, and prohibits using a metal chain, tether, or metal wire grossly in excess of the size necessary to restrain the animal safely.
Animal owners/guardians or persons who are found violating the new animal restraint law will be fined $100 and given one week to replace the chain. Failure to comply will result in an additional $100 fine and the person could be subject to prosecution for animal abuse.
The change went into effect immediately and Animal Care and Control Officers were directed by the Commissioner of Health to conduct neighborhood sweeps to identify and fine violators.