This article is 10 years old. It was published on April 1, 2012.
Single Stream Recycling is now available in City Hall.  Employees may now recycle bottles, cans, paper, and cardboard together in the same recycling bin.  A list of the materials that are now acceptable in the recycling bins is available at http://stlouis-mo.gov/government/departments/street/refuse/recycle/materialsaccepted.cfm).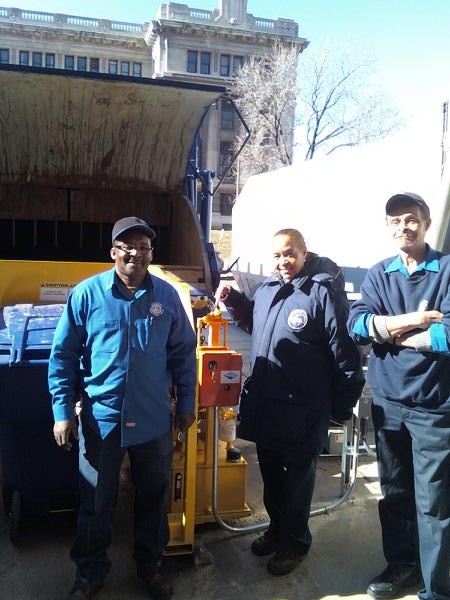 Pictured above:  Last month Victor Peoples, Rachel Richie and Ron Thomas of Facilities Management checked out the new recycling equipment at City Hall.

Simply place clean recyclables in the existing recycling bins located throughout City Hall.
Please remember to empty and rinse any food/drink residual from containers and flatten cardboard.
If cardboard does not fit into the recycling bin, please flatten and stack beside or under the recycling bin.  Or place in your already predetermined collection location.
Housekeeping will collect your recyclables and transport them to the new recycling compactor on the Northwest side of City Hall.
No plastic bags or Styrofoam please.
Please contact the Refuse Division if you have any questions, comments, or suggestions.
Email recycle@stlouiscity.com

For more recycling information about recycling, please visit www.stlouis-mo.gov/recycle.
Refuse Division
City of St. Louis
Department:


Refuse Division