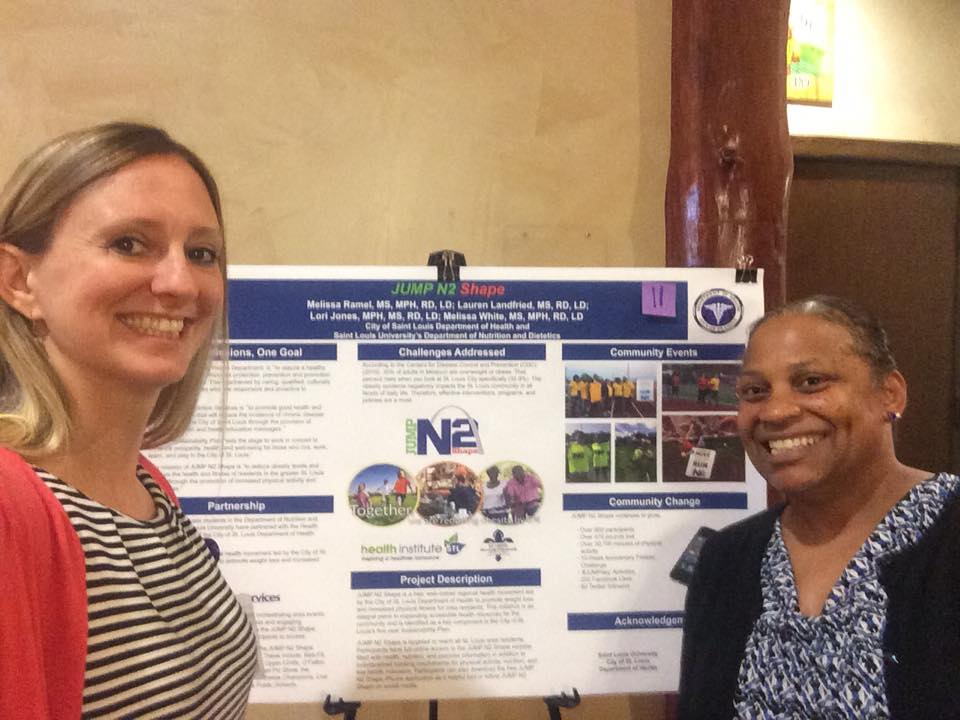 Department of Health Presents Public Health Messages to Statewide Audience
This year, the City of St. Louis Department of Health was honored to have two representatives from its Health Promotion, Education and Marketing Division Nutrition Services' staff present posters at the annual Missouri Public Health Association (MOPHA) meeting on September 23, in Columbia, Missouri. This conference provided an excellent opportunity for practitioners to get the most up-to-date information about public health practices, network with other public health professionals from across the state, and check out exciting research endeavors that have been completed by students and other health agencies. Most attendees either worked at health departments or universities, or were university students in programs related to public health.
Registered dietitian Lori Jones presented a poster highlighting an endeavor near and dear to our hearts, the JUMP N2 Shape initiative. Poster session attendees had the opportunity to learn about how the City of St. Louis is using this regional movement to help reduce obesity by 5 percent, by 2018 as stated in Mayor Francis G. Slay's Sustainability Plan. This program garnered a lot of interest from health department employees throughout the state.
Registered dietitian Lauren Landfried presented a poster as well. Her poster focused on her doctoral research, which looks at the levels of antibiotic residues found in goat meat. This research was conducted in collaboration with the Saint Louis University College of Public Health and Social Justice and the University of Missouri School of Veterinary Medicine. Goat is the fastest growing animal meat source in the United States. The Food and Drug Administration (FDA) and the Centers for Disease Control (CDC) cite antibiotic use in agriculture as one of the biggest contributors to antibiotic resistance in the United States. Landfried's research found significantly higher amounts of antibiotic residues than the USDA is reporting, thus indicating a potentially larger problem in the meat industry. Not only was Landfried's research cutting edge to the poster session attendees, but it also won third place in a competition amongst the research posters. The recognition included a cash prize.
Department:


Department of Health


Topic:


Health