The City could not ask for better weather for Earth Day 2013.  Families, pet lovers, and bicyclists came out in large numbers to enjoy food, fun and lots of information regarding going green and protecting our earth.  The City of St. Louis Department of Health did their best to provide a fun way to remind participants of the importance of maintaining healthy habits and ensuring the welfare of our environment.
The Department of Health's WHEEL OF FORTUNE was a great success! Participants spun the wheel for a chance to win a prize related to our Let's Move! STL initiative. Participants of all ages were asked questions to test their healthy habits and "green" knowledge. The response was great.  Two year olds confirmed the popularity of apples as a good fruit choice.  Seniors correctly answered that paper, plastic and glass were recyclable. If the wheel landed on "DANCE FOR EARTH DAY", participants had to do their best Earth Day Dance for 10 seconds; once they completed their dance, they were able to pick a prize of their choice. (The senior citizens were by far the best dancers!) The smiles and laughter drew people walking by to join in the fun all day long.
Even Mayor Francis G. Slay stopped by to see what all the commotion was about. He encouraged those around to try their hand at the wheel.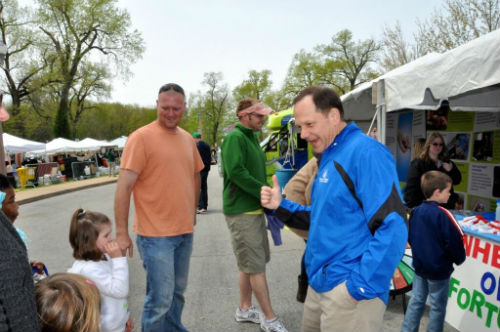 (Photo courtesy of Catherine Werner, Mayor's Office)
Everyone left with a jump rope, water bottle, Frisbee, ink pen, or dog tags promoting Let's Move! STL. Without a doubt, the use of these items will remind them of what they learned and the fun they had on Earth Day.
Department of Health
City of St. Louis
Department:


Department of Health


Topic:


Health