The City of St. Louis Department of Health and East Side Health District were proud to unofficially kick-off the
Let's Move
:  So You Got Moves Golf and Walk Program
on the evening of May 3rd. East met the West in this "first of its kind" 15-week program at the beautiful Grand Marais Golf Club located at 5802 Lake Drive in Centreville, IL.  The program was designed to provide a great way for parents to get physically active with their children. This innovative program includes adult and youth golf lessons and games, walking trail activities, health screenings, and interactive nutrition booths to showcase ways for residents to implement daily healthy lifestyle choices. Special events throughout the 15-week program include a "Girls' Night", Amateur Swing golf etiquette series, and personal development for youth. To culminate the
Let's Move
: So You Got Moves Golf and Walk Program
, there will be a golf tournament on Thursday August 16
th
2012.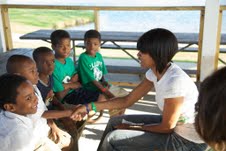 Pictured above:  Kendra Fipps with Amateur Swing meets some of the young men who want to learn to golf.

Both health departments have come together for a shared purpose, to encourage the entire Greater St. Louis Metro area to get moving for better health. "Obesity among children is a growing concern for our community. The Centers for Disease Control and Prevention estimate the current rate of obesity among children may reduce the overall life expectancy by as much as seven years in some areas of the country," said Pamela Rice Walker, Director of Health for the City of St. Louis.  Programs like this one can help to reverse that trend in both children and adults.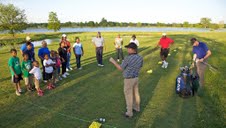 Pictured above:  Mikal Guffey, golf pro at Grand Marais, instructs the participants on the driving range.

The Let's Move: So You Got Moves Golf and Walk Program is available every Thursday evening from 6:00 p.m. to 8:30 p.m. now through August 9th.  This event is free and open to the public, but all participants must register in advance or on-site prior to participating.  Participants can take golf lessons, play the course or walk the trails available in beautiful Frank Holten State Park.  On August 16th, tournament registration will begin at 7:30 a.m. with tee-off planned for 8:30 a.m. and lunch scheduled to begin at 1:30 p.m. Additional information regarding tournament registration, rules, and fees is available through the Health Institute's website (www.healthinstitutestl.org).
For more information on this program, visit the City of St. Louis Health Institute website at www.thehealthinstitutestl.org or contact Lauren Landfried at 314-657-1549 or landfriedl@stlouiscity.com .
Department of Health
City of St. Louis