This article is 4 years old. It was published on April 1, 2018.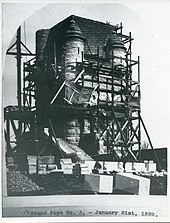 A collection of 60 historic photos, depicting in sharp detail various stages in the construction of the Compton Hill Water Tower, has been added to the experience of visitors climbing to the top of this City landmark.
The collection of 14" x 20" photos, printed from recently discovered glass-plate negatives, will be unveiled in a ceremony at 11:30 a.m. Saturday, April 7, at the base of the Tower, located at South Grand and Shaw Boulevards.
Following the unveiling, visitors will be invited to climb the Tower and view the entire collection. Those who attend this event and display a City ID will be permitted to climb the Tower and view the collection anytime that day, between 12 and 4 p.m. free of charge. The Tower will be open until 4 p.m. that day. The collection will also be available during the 19 public Tower openings -- both daytime ad Full Moon evenings -- remaining in 2018. Normal admission is $5 per adult; $3 for kids 12 and under.
The collection is the result of a collaboration by the City Water Division, St. Louis Public Library, and the Water Tower and Park Preservation Society (WTPPS). The photos originated in the discovery, about three years ago, of some 350 glass-plate negatives in storage at the Water Division's Chain of Rocks Plant. Members of the WTPPS sorted through the plates, then forwarded them all to the St. Louis Public Library, which digitized each image. Sixty of the most interesting photos were enlarged and printed by City Graphics, a local printing firm, on foamcore board. In February, the 60 images were mounted, along with brief descriptive captions, up the winding staircase inside the Tower.
For more information about the Tower and the scheduled public opening dates, visit the WTPPS website at www.watertowerfoundation.org.
# # #