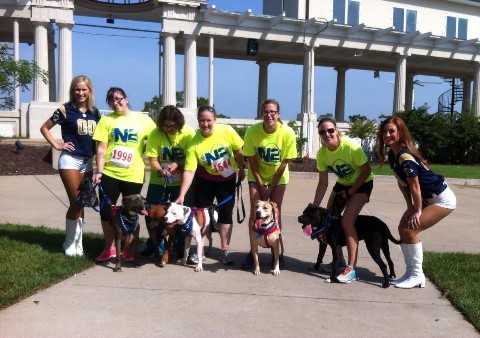 Kick Off to Fitness
JUMP N2 Shape partnered with Club Fitness to kick off its 1-year anniversary fitness challenge at Club Fitness' annual 5K event in Forest Park on Saturday, August 23rd. The 10-week weight loss challenge is a way to commemorate the 1-year anniversary of the JUMP N2 Shape movement, as well as provide a little motivation for JUMP N2 Shape members to "ramp up" their results. In the 10-week challenge, JUMP N2 Shape members have the chance to win cash prizes for their weight loss efforts including $300 for the first place winner, $150 for the second place winner and $50 for the third place winner. Ten of the 5K participants are already winners; they won JUMP N2 Shape t-shirts in the prize raffle that followed the 5K run.
The 5K run also provided an opportunity to introduce JUMP N2 Shape to a broader audience. The 5K participants came from all over the region. Many participants were excited about the chance to win cash for their fitness efforts. One participant was a bit disappointed we hadn't started the challenge earlier; he had already lost 110 pounds and was within 5 pounds of his weight loss goal. He excitedly shared that this was his first 5K race. He planned to do more races in the future. Another 5K participant is using this challenge as the motivation she needs to build on a 35-pound weight loss.
Adoptable dogs from Animal Care and Control (ACC) got a chance to endear themselves to participants and possibly find new homes. Five dogs from ACC participated in the 5K event. Besides getting some exercise and cooling off in the water from the mister, the dogs got lots of attention from participants after the race including two St. Louis Rams cheerleaders. Hopefully all of them will find "furever" homes.
Club Fitness is a key partner in the JUMP N2 Shape effort. As a company that is concerned about the health and fitness of the residents in the region, they were enthused about having a role in JUMP N2 Shape and the 1-year anniversary fitness challenge. For the challenge, they will be providing weigh-ins for challenge participants at all their area locations. Additionally 6 area Club Fitness locations will be providing special fitness classes free of charge for JUMP N2 Shape challenge members.
If you are interested in participating in JUMP N2 Shape's 1-year Anniversary Fitness Challenge, it is not too late. Check out our website at www.JUMPN2Shape.com or contact Melissa Ramel at 314/657-1571 or RamelM@stlouis-mo.gov.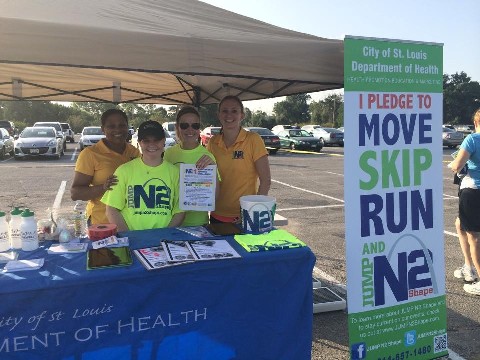 Department:


Department of Health


Topic:


Health