This article is 2 years old. It was published on September 1, 2020.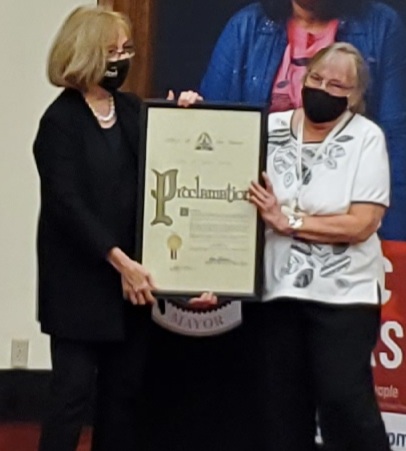 During a brief ceremony at City Hall last month, Mayor Lyda Krewson (pictured left) recognized and thanked Kathy Bess of the Office of Special Events for her 48 years of dedicated service to the City.
Bess began her career with the City of St. Louis in August of 1972 in the Department of Health and Hospitals, and she has served with distinction in the various positions she has held in the Supply Division, Soldiers Memorial, Board of Public Service-President's Office, and Office of Special Events.  
During her career, Kathy has helped in the coordination of countless ceremonies and events in the city, including ceremonies at Soldiers Memorial, the annual Veterans Day Parade, activities celebrating the 250th anniversary of the founding of the City of St. Louis, the 2009 Major League Baseball All-Star Game, the 2011 Major League Baseball World Series Championship Parade, and the 2019 Stanley Cup Watch Parties and Parade, to name just a few of the many celebrations that St. Louisans and visitors have been able to safely enjoy and will reminisce about for the rest of their lives.
Happy retirement, Kathy!
# # #
Department:


Office of the Mayor


Topic:


Employees