The national Public Policy Workshop is an annual event sponsored by the Academy of Nutrition and Dietetics.  Dietitians from all over the country convene in Washington, D.C. and spend two days learning about the legislative process and how it affects the dietetic profession.  Participating dietitians are also taught the skills needed to become effective advocates for key nutrition policies and issues.  The workshop culminates with dietitians visiting Capitol Hill to meet with their legislators to discuss nutrition policy on the third day.
Nutrition Services dietitian Lauren Landfried was able to participate in this year's workshop in March.  During the workshop, Landfried met with legislative assistants for Representative Ann Wagner, Representative William Lacy Clay, Senator Claire McCaskill, and Senator Roy Blunt.  Landfried, along with dietitians from across Missouri, discussed the Farm Bill, the Older Americans Act, the Ryan White/AIDS Program Reauthorization, the Preventing Diabetes in Medicare Act, and the Access to Frontline Healthcare Act (H.R. 702).  All of the legislative assistants were very engaged in the discussions.  Hopefully, that will translate into positive actions on the issues discussed.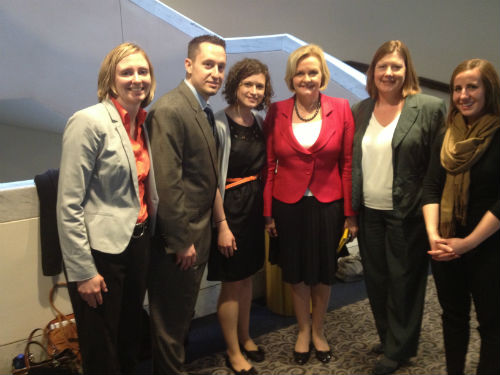 Pictured above:  Lauren Landfried is on the far left in this photo with Senator Claire McCaskill.
The event was a huge success and a great learning opportunity for everyone involved.  Landfried summed up the experience with the following comment: "Policy can seem intimidating at first, but just going allowed everyone to feel empowered, realize that the legislators are people too, and that dietitians should be at the table when nutrition policies are discussed."
Health Department
City of St. Louis
Department:


Department of Health


Topic:


Health