This article is 10 years old. It was published on July 1, 2012.
During a brief ceremony at City Hall last month, Mayor Francis G. Slay presented 40-year service pins to two City employees.
The first presentation was made to Maria Cooley of the Corrections Division.  Ms. Cooley began her career with the City in 1972 as a Typist Clerk I at City Hospital.  She currently serves as a Social Worker at the Medium Security Institution. On hand for the presentation were Ms. Cooley's family members including her sister, City Register Parrie May, her niece State Rep. Karla May, and children Tyrone and Charmaine and several Department of Public Safety co-workers.

The second presentation was made to Amans Robinson of the Assessor's Office.  Mr. Robinson began his career with the City in 1972 at the Health Department.  He currently serves in the Assessor's Office as a Real Property Appraiser I.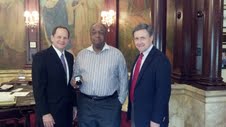 Congratulations, Maria and Amans!
Mayor's Office
City of St. Louis
Department:


Office of the Mayor


Topic:


Employees