This article is 9 years old. It was published on May 1, 2013.
During a brief ceremony in his office last month, Mayor Francis G. Slay presented 40-year service pins to several City employees.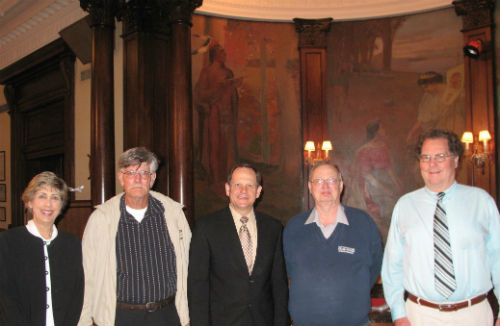 Pictured above from left are:  Donna Hlavaty, Water Division; Donald Stephens, Parks Division; Mayor Slay; Ron Brendel, Building Division; and Theodore "Ted" Elfrink, Information Technology Services Agency.
Donna Hlavaty began her career with the City at Koch Hospital as a Typist Clerk I on Nov. of 1972.  She has been an Account Clerk II with the Water Division since 1987.  She currently works in the division's Finance Section at the Kingshighway Office.  Her manager, Jim Kummer, attended the ceremony with her.
Donald Stephens began his career with the City of St. Louis Parks Dept. in Dec. of 1972 as a Semi-Skilled Laborer working on the 18-hole Municipal Golf Course in Forest Park and spent many years maintaining the Greens, Fairways and Tee Boxes on the course.  In 1987 Mr. Stephens promoted to Labor Foreman I in the Park Construction Section and retains that position today.  In his capacity as a Labor Foreman I, Mr. Stephens supervises a three-man crew responsible for placing and finishing concrete curbs and sidewalks, tuckpointing, installing and repairing playground equipment, and installing and repairing chain link fencing.  Parks Commissioner Dan Skillman attended the ceremony with him.
Ronald Brendel, P.E., began his career as a per-performance employee in the Office of Manpower (now SLATE) in 1972 and promoted to a full-time City employee in January 1973.  Ron transferred to the Building Division in 1972 as Plan Reviewer and is now Senior Plan Reviewer/Code Development Specialist.  Ron has served as the City's Code Development representative to BOCA/ICC since 1986 and serves on several BOCA/ICC boards and committees.  He is the past president of the Missouri Association of Building Officials and Inspectors and the Society of Fire Protection Engineers.  Public Safety Director Charlene Deeken attended the ceremony with him.
Theodore "Ted" Elfrink accepted his first job with the City in 1973 in the lab attached to City Hospital on Lafayette and Grattan.  When City Hospital closed in 1982, Ted transferred to the I.T. department in City Hall.  Ted quickly became an expert in business licenses, real estate assessments, processing of tax payments, geographical information systems (GIS), and the retirement systems.  The I.T. department is grateful for his expertise and for his leadership of an I.T. project team.  ITSA Appointing Authority Robbyn Wahby attended the ceremony with him.
Congratulations, Donna, Donald, Ronald and Ted!
Mayor's Office
City of St. Louis
Department:


Office of the Mayor


Topic:


Employees