During March 2012, as a part of National Nutrition Month, Nutrition Services encouraged City employees to increase their fruit and vegetable intake with a fun, interactive challenge.  During the month-long event, participants were challenged to achieve the recommended nine servings of fruits and vegetables every day.  By incorporating more fruits and vegetables into daily meals and snacks, individuals can begin to reap the many benefits these nutrient-packed foods have to offer. 
At the completion of the challenge, Nutrition Services selected one participant to receive a $25 gift card to Whole Foods. The lucky winner was Michelle Paillou, a food inspector in the Department of Health's Bureau of Environmental Health.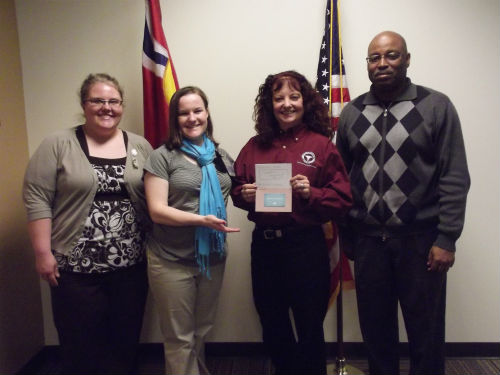 Pictured from left:  Dietitians Melissa White and Melissa Ramel of Nutrition Services, Michelle Paillou and Warren Nichols, Health Promotion Education and Marketing Division Chief.

Thanks again to all participants and remember to eat your fruits and vegetables every day!
Health Department
City of St. Louis

Department:


Department of Health


Topic:


Health