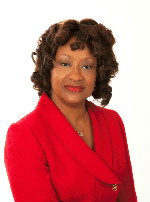 The U.S. Department of Health and Human Services Office of Minority Health is creating 10 Regional Health Equity Councils throughout the country. Creation of the Councils was recommended by a group of concerned and vested individuals that developed national stakeholder strategies for achieving health equity. The individuals were charged with coming up with a strategy to close the health gap for racial, ethnic and underserved communities.
Melba Moore, Commissioner of Health for the City of St. Louis Department of Health has been appointed to the Regional Health Equity Council for Region VII. Representatives from Iowa, Kansas, Missouri and Nebraska will serve on the Council for this region.
Moore brings extensive experience in working to reduce health disparities to the Council. She is a member of the Racial Ethnic Health Disparities Action Institute (REHDAI) and the Satcher Health Leadership Institute (SHLI). REHDAI is a Centers for Disease Control and Prevention initiative that provides local and state teams with tools, resources and strategies for developing evidence-based approaches to build healthier communities. SHLI focuses on developing community health leaders who will educate, motivate, mobilize and lead community groups in changing health behaviors, improving environmental health and influencing policies to support community health.
"I'm honored to have been selected to serve on this collaborative body to prioritize efforts and resources to reduce barriers to health in the region," said Moore. "It's going to be a great opportunity to create and sustain progress in eliminating gaps to health by creating new partnerships and leveraging existing ones."
Moore has a Bachelor of Arts (BA) degree in Psychology from WebsterUniversity and a Master of Science (MS) degree in Health Management from LindenwoodUniversity. She has a certificate of completion in Management from the John F. Kennedy School of Government for State and Local Executives and has been approved by the Public Health Practitioner Certification Board as a Certified Public Health Administrator.
She has more than 20 years of experience in executive leadership and management in the public sector. Her particular areas of interest include program assessment, development, quality assurance and policy development. She also possesses advanced knowledge of health administration, with a particular sensitivity to policy issues related to public health, women, children and minorities.
The Regional Health Equity Councils will include representatives from public, non-profit, and private sectors and will include state and local governments, tribes and health, business and academic organizations. Council members must represent communities impacted by health disparities and must have knowledge and expertise in social determinants of health.
To view the National Stakeholder Strategy for Achieving Health Equity Action Plan in its entirety go to:
http://minorityhealth.hhs.gov/npa/templates/content.aspx?lvl=1&lvlid=33&ID=286
 # # #