This article is 11 years old. It was published on April 1, 2011.
The St. Louis Civil Rights Enforcement Agency (CREA) held its 5th Annual Kick-Off Celebration for National Fair Housing Month on March 31 at St. Louis City Hall.  The ceremony commemorated the 43rd anniversary of the Fair Housing Act which then-President Lyndon B. Johnson signed into law on April 11, 1968.  The Act prohibits discrimination in the sale and rental of housing and housing-related transactions, where such action is based on race, color, national origin, and religion.  It was later amended to include prohibition against discrimination based on sex and to include persons with handicapping conditions as well as familial status.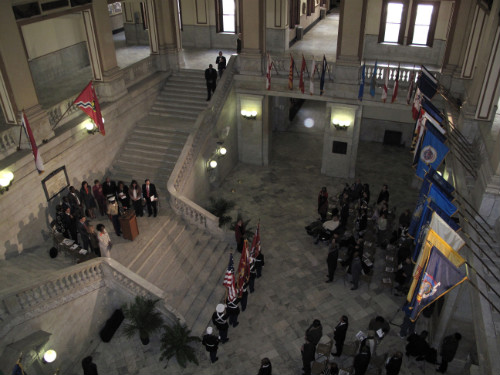 During the ceremony, special tribute was made to the late Attorney Margaret Bush Wilson and Max Starkloff for their many contributions to fair housing both before and after the enactment of the Fair Housing Act.
Ms. Anna Crosslin, Executive Director of the International Institute, was presented with the Distinguished Fair Housing Service Award.  Mrs. Derrith Watchman-Moore, Regional Administrator, U.S. Department of Housing and Urban Development, Region VII was the featured guest speaker.
Department:


Civil Rights Enforcement Agency


Topic:


Housing