This article is 11 years old. It was published on December 1, 2011.

The Little Tikes Young Explorer is a combination desk and desktop computer that introduces youngsters to technology.  Last month, IBM donated 50 of them to the preschools throughout the City.  Each site received a desk for two preschoolers, along with a monitor, computer and preschool software.
In a blog post, Mayor Francis G. Slay thanked IBM for making the donation and IBM's Lisa Yanker for making sure it happened.  He also acknowledged the many members of the community who helped.
Vision for Children At Risk
coordinated the delivery and distribution of the computers.
Mardi Gras Inc.
provided free warehouse space.
McGuire Moving and Storage
dispatched drivers and trucks to deliver the Young Explorers throughout the City. The
Mental Health Board
underwrote the training of the volunteers. And in just one day, nearly 100 volunteers from
United Way
,
St. Louis
Early Childhood Council
,
AmeriCorps
, the
St. Louis Democratic Party
, and the
City of
St. Louis
joined employees and retirees from IBM to assemble all the computers for the schools.
Here's a photo of a Young Explorer from the LittleTikes.com website: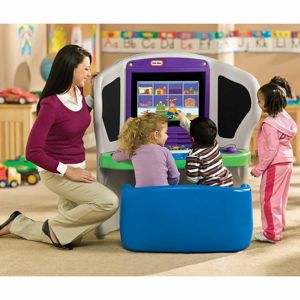 Mayor's Office

City of St. Louis