What if you could attend the best events in St. Louis? You would be taking in the sights at the Balloon Races in Forest Park, sampling cuisine from all over the City at the Taste of St. Louis in Kiener Plaza, enjoying the cultural smorgasbord at the International Festival in Tower Grove Park, or even enjoying a World Series play-off game at Busch Stadium. You could be one of the luckiest people in St. Louis, or…you could be one of the City's food or community sanitation inspectors just doing their job. What many people don't know is that our City's food inspectors and community sanitation inspectors are on the job throughout the week, including weekends to ensure the weekend's festivities deliver safe food and clean conditions along with the fun.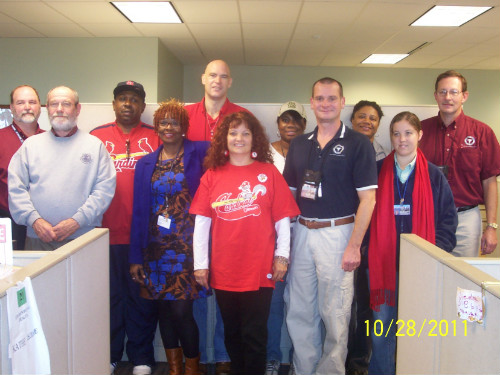 Pictured above are your City Food and Community Sanitation Inspectors (front row l to r): Jim Tucker, Mary Wheelington, Michelle Pailou, Jim Cunningham and Diedra Weaver; (back row l to r): Richard Eskew, Keven Huntspon, Jim Boswell, Jackie Trotman, Alencia Foster, and Jim Womack.  Not pictured: Anthony Elliott, Shontae Fluelen-Hays, Monique Hudspeth, and John Ward.
These City employees work in teams to ensure an event is safe from the inside out. Outside the venue, community sanitation inspectors are working hard in a number of ways. They are monitoring the general sanitation of the event, ensuring that Port-a-potties are available and safe for use, and properly-stocked hand-washing stations are provided near the Port-a-potty areas. This reduces the possibility of fecal contamination for all event participants. They ensure that adequate receptacles for trash are available and trash is not allowed to build up. This helps in controlling rodents and other vermin that could carry and transmit disease to event participants or other City residents. They also help to enforce the City's smoking ban inside the venue to ensure the safety of the air participants breathe when they attend these events.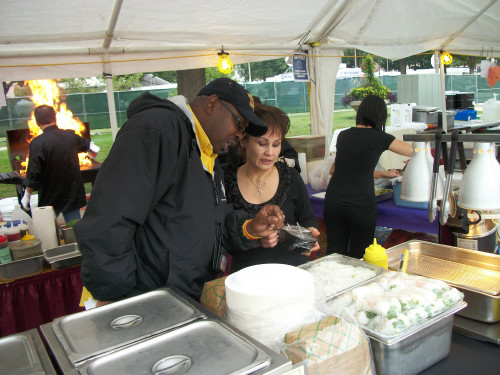 Pictured above:  Food Inspector Kevin Huntspon confers with a vendor at the recent Taste of St. Louis.
Inside the venue, the food inspectors work equally hard. They are closely monitoring all the food service operations to ensure they are adhering to proper sanitation and food service protocols that will ensure event participants receive clean, safe food each and every time. This involves not only checking the food itself for proper handling and proper temperatures, but also ensuring employees adhere to proper hand-washing and glove wearing procedures. This can be challenging, based on the large number of food vendors at these events, but the City's food inspectors take their job seriously. Your safety is their responsibility and they know it. They will do what is necessary to reduce your chances of having a fun evening at the ballpark turn into a trip to the doctor for a food-borne illness.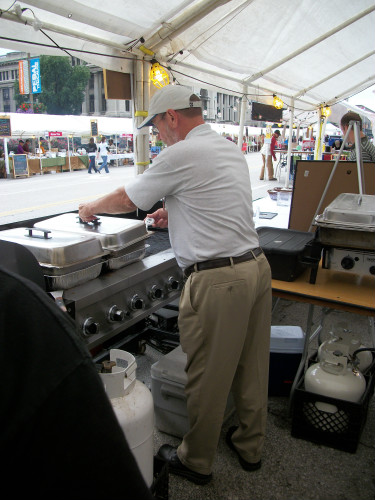 Pictured above:  Food Inspector Jim Tucker takes temperatures on a food item at the recent Taste of St. Louis.
According to Pat Mahoney, Environmental Health Supervisor, "an added benefit of all this monitoring and surveillance is the additional eyes that may serve as a deterrent for terrorist activity." The presence of the food inspectors and community sanitation inspectors at these events actually deter potential terrorism that might be directed at a large crowd via the food or beverages served at the event. This is yet another example of the City Health Department protecting the health and safety of its residents.
Health Department
City of St. Louis