This article is 10 years old. It was published on February 1, 2012.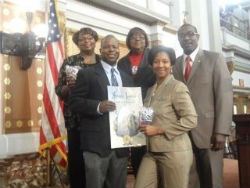 The 20th anniversary of STL-TV was recognized by the Board of Aldermen with Resolution Number 274, presented at the Dec. 9, 2011 meeting.  Pictured from left are Donna Brooks, Communications Commissioner; Andre Holman, Video Production Manager; 19th Ward Alderwoman Marlene Davis; 2nd Ward Alderwoman Dionne Flowers and Lewis Reed, President of the Board of Aldermen.
The resolution was passed in support of HR 1746, the Community Access Preservation Act (CAP) and recognizes the significant role that public, educational and government (PEG) access channels play in the City of St. Louis.  
The government access television studio under the Communications Division has been producing public service television since 1991 and plays a major role in the transparency of government by keeping the electorate informed through the weekly televising of the Board of Aldermen meetings, committee meetings and hearings, town hall meetings, Mayoral press events, Ward news and events, and the promotion of city services.
Congratulations on 20 years of service to the City and the citizens of St. Louis!
Communications Division
City of St. Louis

Department:


Communications Division