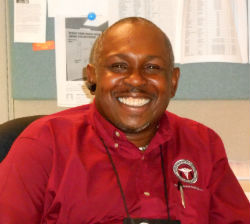 Looks can be deceiving. Sometimes there is more under the surface than what meets the eye.  Take Kevin Huntspon in the Bureau of Environmental Health in the City of St. Louis Department of Health (DOH) for example.  Day to day, Huntspon serves the city as a Food Establishment Inspector, but in his past career, he excelled as an executive chef for many fine establishments across the country.
Huntspon got his start in the culinary arts in high school. While the culinary arts may not have been the initial motivator for Huntspon to take that first home economics class in high school, he quickly latched on to the "joys of cooking" and excelled in the kitchen.  As a result, he was afforded an opportunity to participate in a cooperative program where he attended school part of the day and worked in food service establishments for the remainder.  Busing tables and washing dishes wasn't always the most exciting work, but it provided Huntspon an opportunity to see how restaurants worked behind the scenes as he continued to hone his cooking skills in class.
After high school, Huntspon began his progression to executive chef.  He started as a breakfast cook at Lane College in Jackson, TN while he pursued a degree in General Business.  As his skills grew, he felt compelled to leave college and fully enter the workforce.  He headed to Chicago, IL where he worked at the Holiday Inn on Lake Shore Drive.  About this time he started culinary school at Kendall College in Evanston.  It took him three years, but he earned his Bachelor of Arts in Culinary Arts.
After graduating, Huntspon received a phenomenal offer.  He was invited to apprentice with noted Chef Paul Bocuse in Leone, France for six weeks.  This "once in a lifetime" opportunity gave him an opportunity to gain a clearer understanding of the culinary arts through "the art and study of the complexities of foods."  After the six-week adventure in France, Huntspon returned to the Westin Hotel in Chicago where he was appointed an assistant executive chef.  This job led to a succession of other jobs including being the assistant executive chef at the Adam's Mark and Boatmen's bank, both in St. Louis, a stint as the executive chef for Regal University Hotel at Duke University and a number of other executive chef positions with various well-known corporations.  After 20 years, Huntspon retired and moved into the next phase of his career at the DOH.
Huntspon credits his background with helping him to be successful in his current job.  He says it helps him to "understand people better and the commitments required to achieve the compliance that protects the public.  "It also helps him to provide a 'practical approach' to restaurant management.  According to Huntspon, "while sanitation is a top priority, so is creativity."
Huntspon still gets the opportunity to be creative and use his culinary skills.  Besides cooking for an occasional family, work or community function, he also consults with chefs in different food service environments.  This gives him exposure to "cutting edge food innovations" as well as food service sanitation.  He is also exploring new aspects of food and nutrition through consulting with Feed Your Vitality, a program focused on using the anti-inflammatory properties of foods to enhance health.
Health Department
City of St. Louis
Department:


Department of Health


Topic:


Employees