October 24th was Food Day in the City of St. Louis.  Food Day was celebrated in two sites this year.  From until , Saint Louis University (SLU) in concert with the City of St. Louis Department of Health and Les Dames d'Escoffier hosted a Food Day event at SLU's urban farm in midtown.  Additionally, the Missouri History Museum held a Food Day program later that evening from to .
Pictured above:  Patron at Food Day being served one of the Artisan menu items.
Food Day began as an offshoot of World Food Day, which was established by the Food and Agriculture Organization back in 1945.  It has since been observed every year in more than 150 countries, raising awareness of the issues behind poverty and hunger.  Food Day occurs every October 24th and is a nation-wide movement for healthy, affordable, and sustainable food.  Food Day commemorations strive to help people "Eat Real", which encourages them to cut back on sugary drinks, to choose low-sodium options when purchasing packaged foods, to increase their intake of fruits, vegetables, and whole grains, and to purchase foods from local farmers, whenever possible.
Food Day also deals with issues of access to healthy foods.  In 2012, Missouri ranked among the top ten states in the U.S. to exceed the national average for food insecurity, with 16.7% of households identified as being food insecure. The term "food insecurity" means that these households and individuals, many of which include children, do not have consistent access to adequate food and are at risk for poor nutrition.
Making smart food choices is more than just a lifestyle; it is necessary for life! Everyone needs a well-rounded, consistent, and nutritious diet to stay healthy and strong; however, a nutritious diet for children is essential for them to develop to their full potential both physically and mentally.  Food Day brings awareness to the issues of food insecurity and celebrates healthy, affordable, and sustainable food systems.
The Food Day celebration at Saint Louis University highlighted the work of Jacki Dirksmeyer, a local woman who directs "Feed My Peeps", a ministry at the Rock Church in Soulard.  Through this ministry Dirksmeyer is able to provide food for homeless and low-income residents in the area.  After sharing a little about her work, Dirksmeyer was honored as the Food Day Food Hero for 2013.  Then the participants circulated in SLU's urban farm where there were several stations teaching about related topics like food deserts and food access; composting and vermiculture; how to get involved with community supported agriculture; fighting childhood obesity; and the process of growing and promoting healthy, sustainable and just food that uses humane agricultural practices. Artisan menu items, prepared using local food products, were served at each station along the way.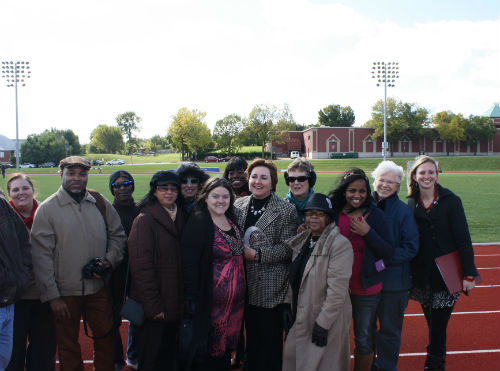 Pictured above:  Jacki Dirskeyer, the Food Day Hero (center with award), is surrounded by her volunteers and event organizers.  Health Department personnel included in this picture are Melissa White, Nutrition Services (far left, back row), Warren Nichols, Health Promotions (front row, left with camera), and Lauren Landfried, Nutrition Services (front row, right).
The Food Day celebration at the Missouri History Museum later that evening offered the following workshops and activities: a Hands-on Herb Workshop led by Mark Manteuffel of St. Louis Community College; a workshop entitled "Less Is More: A Healthy Eating Plan on a Budget" which was presented by Courtney Tiemann-Luecking of Washington University's School of Medicine; several cooking demonstrations, food samplings and information stations; and a screening of the documentary A Place at the Table which tells the powerful story of hunger and food insecurity in America. Afterwards, participants discussed examples of sustainable solutions to ending hunger in St. Louis.
Food Day provides a great opportunity to raise awareness about some of the problems surrounding our current food systems and begin to develop solutions.  If you would like more information or want to be involved in this effort, please contact Lauren Landfried at 314/657-1549 or LandfriedL@stlouis-mo.gov.
Health Department
City of St. Louis
Department:


Department of Health


Topic:


Health