This article is 10 years old. It was published on February 1, 2012.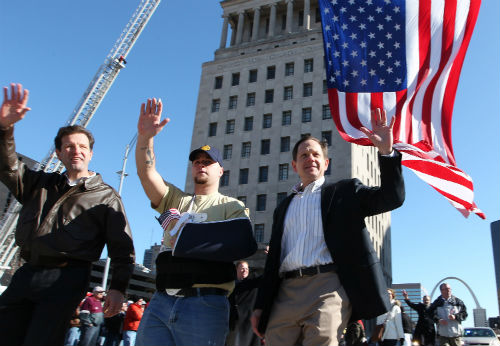 St. Louis held the nation's first parade to honor the men and women who served in Iraq and Afghanistan and thousands of of people turned out to say "thank you" and to support the veterans in the Welcome Home the Heroes parade in Downtown St. Louis on Saturday, Jan. 28, 2012.
Pictured above from left are U.S. Representative Russ Carnahan, Army veteran Justin Petty and Mayor Francis G. Slay walking in the parade.
Tom Appelbaum, a lawyer from Creve Coeur, and Craig Schneider, a technology coordinator for the St. Charles School District, came up with the idea for the parade in December.  They started a Facebook group and used social media to gather support for what they wanted to make happen.
Many thanks to everyone involved in this heart-felt tribute to our nation's veterans.
Mayor Francis G. Slay
City of St. Louis