It is well-evidenced that registered dietitians reduce health care costs associated with diseases such as heart disease, cancer, diabetes, and stroke.  They are also helpful in preventing these diseases from even starting.  With so much uncertainty related to the future of health insurance and health care, prevention is that much more necessary.  The way to ensure that appropriate prevention and health care is available to all is through advocacy efforts directed at public policy on those issues.
On March 28th, Lauren Landfried, Melissa Ramel, and Melissa White, registered dietitians with Nutrition Services, drove to Jefferson City along with other dietitians in the Missouri Dietetic Association (MDA) to speak to state legislators on MDA's Legislative Day.  They provided each legislator with information about how cost-effective dietitians are with regards to health care and disease prevention.  Along with information on health care savings, they provided literature on the Farm-to-School program.  Each legislator also received seeds to plant their own fresh vegetables.  The MDA dietitians also provided every legislator with contact information for dietitians within their districts to assist in reviewing any nutrition-related legislature that may be proposed.  Allowing the "nutrition experts" to participate in shaping such legislation could result in better legislation and increase health care savings.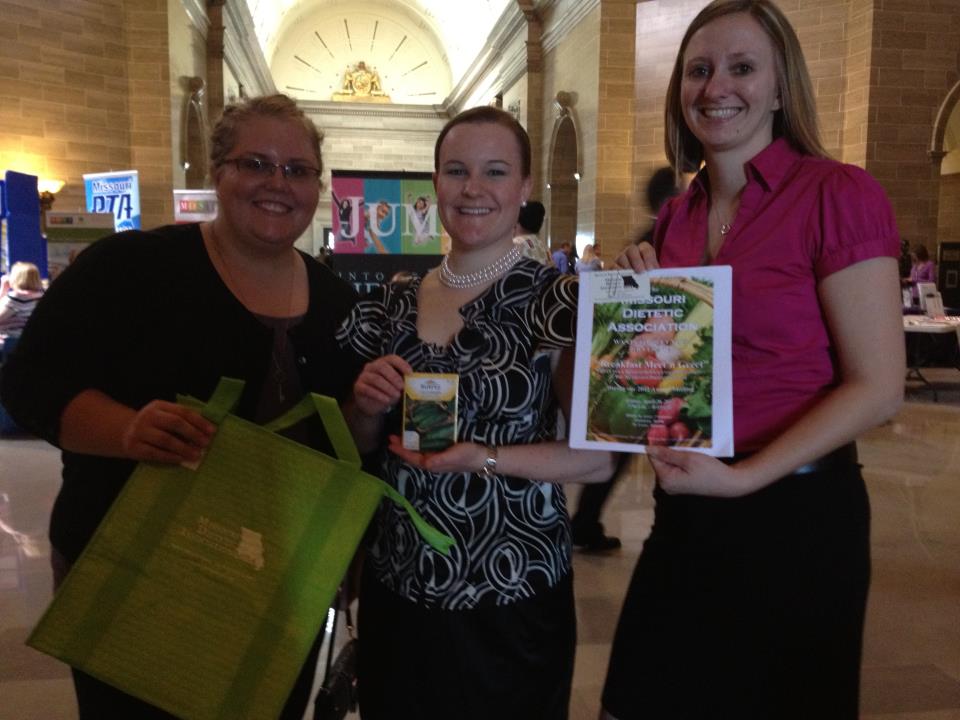 Pictured from left:  Registered dietitians Melissa White, Melissa Ramel and Lauren Landfried showing the packet that was provided to state legislators in Jefferson City, MO.

Each year, the Academy of Nutrition and Dietetics (AND) also holds a public policy workshop in Washington, DC. to train its members in advocacy and give them the opportunity to use those skills on key issues with their legislators.  Three members from Nutrition Services attended this year's public policy workshop in mid-April.  Registered dietitians Lori Jones, Melissa White and Emily Field made the trip to learn more about how to impact policy and have the opportunity to talk with U.S.  Congressmen from Missouri regarding key issues that are important for health.  
Legislative priorities of the Academy are determined based on the changes in food or health-related legislation or budgets and the impact they are expected to have on the public's health.  This year's priorities included: 1) The Farm Bill, 2) The reauthorization of the Older American's Act, 3) The Preventing Diabetes in Medicare Act, and 4) The Preserving Access to Life-Saving Medication Act.  Workshop participants received additional information about each of these priorities and strategies to discuss each one with legislators.  The highlight of the workshop was a visit by the current Secretary of Agriculture, Tom Vilsack.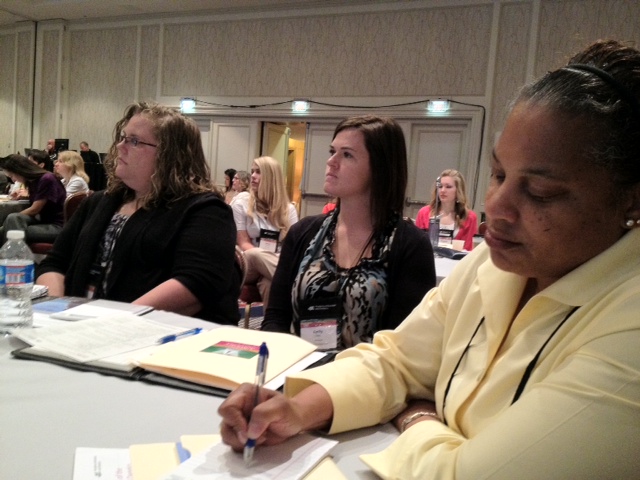 Pictured from left:  Registered dietitians Melissa White, Emily Field, and Lori Jones listening intently at a public policy workshop session in Arlington, VA.

Policy is one of the best ways to initiate a lasting change.  As the nation's nutrition experts, dietitians know that the passage of good legislation in each of the priority areas can be effective in improving health and health care in a variety of areas, as well as preventing chronic diseases and obesity.  Armed with this knowledge, dietitians from across the nation flocked to the Capitol to advocate in those areas.  The dietitians from Nutrition Services joined others from across the state of Missouri to meet with state senators and representatives from all parties and share the facts regarding these important priorities. 
In this very challenging political environment, it is very difficult to gain the bipartisan support necessary to get any legislation passed.  We are hopeful that our efforts helped to raise awareness and spur some action on these important issues.  Now that we are back, we will continue our efforts here in Missouri to get the legislation needed to ensure good health for the public.
Health Department
City of St. Louis

Department:


Department of Health


Topic:


Health