This article is 5 years old. It was published on May 3, 2017.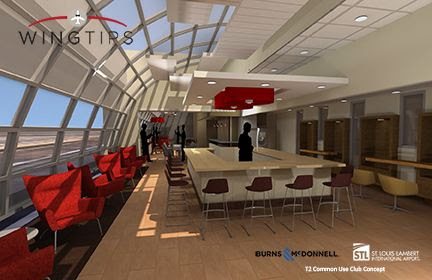 The St. Louis Airport Commission gave preliminary approval to major debt refunding deal that could yield millions in savings for St. Louis Lambert International Airport (STL). Commissioners also approved a plan for the build-out of the Airport's first common-use passenger club set for Terminal 2.
The Airport Commission approved a draft ordinance authorizing the issuance of Revenue Refunding Bonds, Series 2017, with a not-to-exceed amount of $240 million. The refunding will cover one or more of St. Louis City's outstanding Airport Revenue Bonds with an anticipated net present value savings of more than $31 million. The Commission also authorized the issuance of "Series 2017 Project Bonds," not to exceed $70 million. The new bonds will cover runway and taxiway construction, parking infrastructure repairs, new snow removal equipment, new passenger loading facilities and other projects. These bond ordinances must still be approved the City Board of Estimate & Apportionment and the City Board of Aldermen.
"We're optimistic about the next bond refunding. It's just the last in a series of recent refundings which has been made possible because of our expanding aviation traffic, improved operational efficiencies, stronger financial performance and stronger credit ratings," said Airport Director, Rhonda Hamm-Niebruegge.
The City has completed four refundings of Airport Revenue Bonds since 2011. Once the 2017 refunding is completed, the total net savings of the all the recent bond refundings is expected to approach $46 million.
The Airport Commission also voted to approve a contract for the Airport's first "Common Use' club, slated to be built in the newly re-opened area in the west end of Terminal 2. The 10-year agreement is with St. Louis-based Airport Terminal Services, dba Wingtips, which currently operates Wingtips in New York's JFK T4 and manages Lufthansa's Senator Club at Detroit Metropolitan airports. Pending final approval of the agreement, the Wingtips club will be constructed near gate E-31 and will have many of the same amenities as airline clubs (food, beverages, and private work stations). It would be open to all passengers for a daily use fee. The 10-year contract sets a minimal annual revenue guarantee to the Airport of $3,454,465. Board of Aldermen approval is still required.
The Airport Commission also gave the first approval to a revenue agreement with Enterprise Leasing Company of STL, LLC for the use of a 17.8 acre paved parking lot at 4401 Springdale Ave. The five-year agreement (plus a five-year option) amounts to $120,000 per year in new revenues. The agreement must also be finalized and approved by the City Board of Aldermen.
---
Contact
Jeff Lea, Public Relations Manager
314-426-8125 office
314-795-2235 cell
jrlea@flystl.com
St. Louis Lambert International Airport (STL) is the primary commercial airport for eastern Missouri and southern Illinois serving 14 million passengers annually. STL is an Enterprise Fund Department of the City of St. Louis. It is wholly supported by airport user charges. No general fund revenues are used for the operation, administration, promotion or maintenance of airport facilities. For more information on flights and services at St. Louis Lambert International Airport, log onto www.flystl.com. 
Department:


St. Louis Lambert International Airport


Topic:


Airports