This article is 4 years old. It was published on May 1, 2018.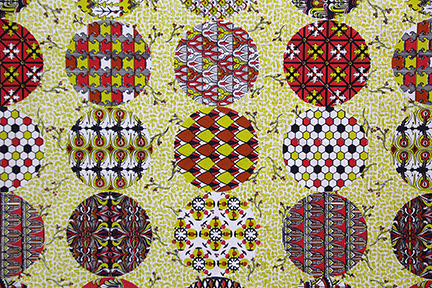 A St. Louis artist has merged international symbology, patterns and color from around the world for a fabric mural that is now on display at St. Louis Lambert International Airport. 
Addoley Dzegede's "Here and Elsewhere" is a 12 ft.-wide silkscreened pigment on cloth work that was inspired by the artist's post-graduate apprenticeship at the Fabric Workshop and Museum in Philadelphia in 2015. She explored a 5-block radius around the museum to select motifs found in architecture to create a repeat pattern. However, she used a color palette commonly used in Dutch Wax prints that pays homage to Dutch, Indonesian and West African textiles. This is the largest installation of "Here and Elsewhere"; smaller sections have been on exhibition at the Fabric Workshop and Museum in Philadelphia. It's located in Terminal 2 between gates E10 and E12.  
Addoley Dzegede is a Ghanaian-American interdisciplinary artist whose work investigates notions of belonging, migration and location, and hybrid identities. Through a variety of media and techniques, she explores the metaphoric potential of materials, familial histories, textile traditions, and the ways in which color and pattern are used as a means to assign belonging. 
Dzegede received her MFA from the Sam Fox School of Design & Visual Art at Washington University in St. Louis. She has been an artist-in-residence at the Arteles Creative Center in Finland; the Foundation Obras in Portugal; the Nes Artist Residency in Iceland; The University of Kansas, as well as the apprenticeship at the Fabric Workshop and Museum in Philadelphia.
Recent regional and national exhibitions include Overview is a Place, SPRING/BREAK Art Show, New York, Another Country, 50/50, Kansas City, Color Key, Contemporary Art Museum St Louis, and Surface Forms, The Fabric Workshop & Museum, Philadelphia. International exhibitions and screenings include The Labs @ Chale Wote, W.E.B. Du Bois Memorial Centre for Pan-African Culture, Accra, Ecology without Borders .01, [.BOX] Videoart Project Space, Milan), and In Deep Ecology, Tenerife Espacio de las Artes, Tenerife. Recent awards include the 2018 Great Rivers Biennial award and a Creative Stimulus Award from Critical Mass for the Visual Arts.  
"Here and Elsewhere" will be on display through October 30, 2018. The exhibit is part of the temporary exhibitions program which receives support from the Regional Arts Commission of St. Louis. 
Addoley Dzegede was chosen to exhibit by the Lambert Art & Culture Program through the Airport's seven-member Airport Art Advisory Committee.  Current members are Lisa Cakmak, Associate Curator of Ancient Art at Saint Louis Art Museum; Ellen Gale, Executive Director Clayton Chamber of Commerce; Shelley Hagan, Wells Fargo Curator Corporate Art; Leslie Markle, Curator of Public Art, Mildred Lane Kemper Art Museum; Kiku Obata, Founding Principal of Kiku Obata & Co.; Roseann Weiss, consultant with ART+; and Carlos Zamora, Creative Director at Express Scripts. 
The mission of the Lambert Art and Culture Program is to create a visually outstanding impression of St. Louis Lambert International Airport, generate community pride, and ensure that art at STL continues to complement and build upon the airport's rich visual legacy. The program aims to highlight the St. Louis region's unique art and culture, while also showcasing national and international works, focusing on both visual and performing arts. Currently, there are 29 works of art (temporary, permanent or on-loan) on exhibit at the Airport. For more information, visit www.artoftravelstl.com.
Contact Information:


Jeff Lea
Public Relations Manager
Office Phone: (314) 426-8125
Mobile Phone: (314) 795-2235

Department:


St. Louis Lambert International Airport


Topic:


Art and Fine Art