This article is 6 years old. It was published on February 9, 2016.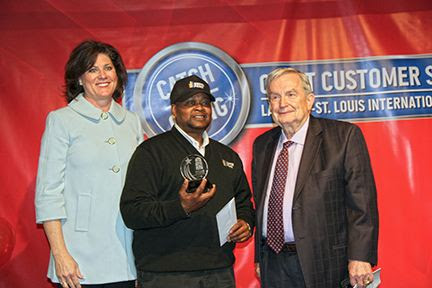 ST. LOUIS - Lambert-St. Louis International Airport awarded its Ambassador of the Year at the Catch Us Giving customer service annual awards reception Tuesday. The celebration honored hundreds of employees who were "caught" by the public in 2015 for giving great customer service.
The highlight of the event was when a crowded room rose to their feet as Airport Director Rhonda Hamm-Niebruegge announced Henry Ford from ABM/Super Park as the Ambassador of the Year.   ABM Industries manages Airport parking and shuttle services. Ford is honored for going out of his way to personally return an envelope containing several thousand dollars in cash to Larry Hart, a traveler who unknowingly left it on Ford's shuttle bus. Mr. Hart, President of LJ Hart & Company, made a surprise appearance to help present the special award. 
"I didn't even know it was missing yet," Hart said. "I was getting a very good shoe shine for my trip to France, and Henry comes in just running and hands me the envelope. The look on his face, so relieved to find me, tells you what a good person he is."
TheCatch Us Givingprogram has a key foundation of public involvement to "catch" Airport employees giving great customer service. Nearly 1,200 nominations were submitted in 2015, a growth of 178 percent over 2014. Employees from 40 different companies and employee groups were represented, up 30 percent from 2014. The Catch Us Giving Committee reviews all of the nominations each month and chooses two monthly winners. At the end of the year, they select the person who delivered the most outstanding act of customer service as the program ambassador.
"This type of airport-wide acknowledgement of employees going above and beyond for our passengers is one we look forward to every year," said Hamm-Niebruegge. "Catch Us Givingis a great way for us to celebrate these exceptional people, while also providing us an opportunity to hear what means most to our guests."
The reception also included special recognition for the monthly winners, a live band, photo booth, candy bar, lunch buffet, and prize giveaways. The event was sponsored by the Regional Business Council, Funjet Vacations, Air Choice One, and US Bank.
Department:


St. Louis Lambert International Airport


Topic:


Airports