This article is 7 years old. It was published on May 4, 2015.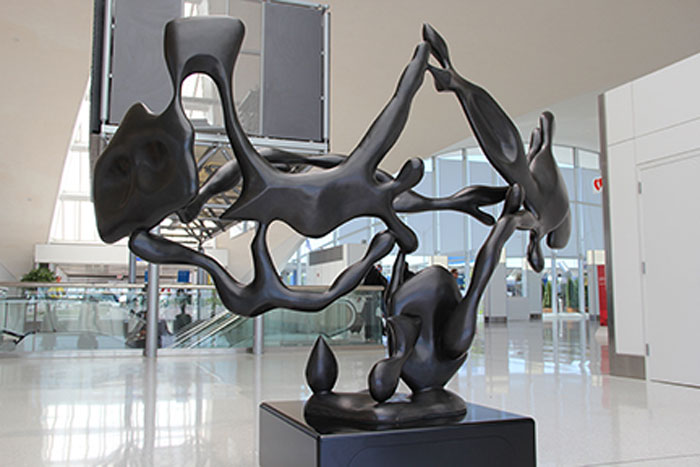 Lambert-St. Louis International Airport has acquired and installed two prominent bronze sculpture works on loan from the Laumeier Sculpture Park in St. Louis County.
The loaned works are from Charles Arnoldi and Isaac Witkin. They are now on display in the ticketing lobby of Terminal 1 in new seating areas with wide window views of Lambert's airfield. The exhibition, on loan for five years, is part of the Lambert Art & Culture Program.
"We're very pleased to be working with Lambert-St. Louis International Airport on a long-term loan program that puts art into the spaces at Lambert—as the original designers intended—and brings fresh perspective to Laumeier's rich legacy Collection," said Marilu Knode, Executive Director at Laumeier Sculpture Park. "Both partners are dedicated to creating a vibrant community enlivened by great architecture and art—past and present—that shows the cultural riches of the St. Louis community."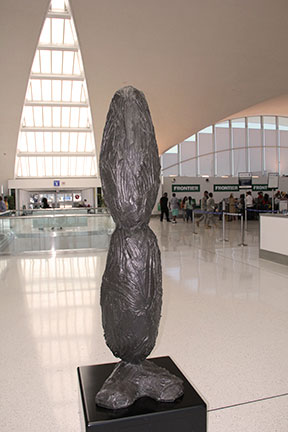 Charles Arnoldi's Eclipse, 1990, is a quirky, double-oval-shaped bronze sculpture with "Giacometti-esque" elongation. Each hollowed-out, walnut shape employs the hand of the artist, as frantic finger trails are embedded into the surface. Quasi-figurative in form and scale, Eclipse refers in both concept and composition to Arnoldi's painting practice, literally documenting the trace of his hand. Charles Arnoldi was born in 1946 in Dayton, Ohio. He has had one-person and group exhibitions at institutions including the Seattle Museum of Art, the Portland Art Museum, the San Francisco Museum of Modern Art and the Busan Metropolitan Art Museum, Korea. Arnoldi's works are in collections at the Art Institute of Chicago; the Denver Art Museum; the Metropolitan Museum of Art, New York; the Museum of Contemporary Art, Chicago; the Smithsonian American Art Museum, Washington; and the Guggenheim Bilbao, Spain. Eclipse is part of the Laumeier Sculpture Park Collection as a gift of the John McEnroe Gallery.
Isaac Witkin's Hawthorne Tree, 1987, is another cast bronze piece with a blend of abstraction and figuration. Reminiscent of a gnarled and thorny tree found in Witkin's native South Africa, this work is one of six variations in a series, each representing different aspects of magical transformation. The theme is derived from a spell that was cast upon Merlin the Magician by a wood nymph, to whom he teaches his magic. The nymph goes forth in the guise of Merlin, while he rests under the shade of a hawthorne tree. Isaac Witkin was born in Johannesburg, South Africa in 1936. At the age of 21, the sculptor moved to London where he attended St. Martin's School of Art. In 1965, Witkin emigrated to the United States and became an artist-in-residence at Bennington College from 1965– 79. Witkin has exhibited extensively in galleries and museums around the world: Locks Gallery, Philadelphia; Neuberger Museum of Art, Purchase, New York; Grounds For Sculpture, Hamilton, New Jersey; and a solo exhibition at the Walker Hill Art Center, Seoul, Korea. Hawthorne Tree was gifted to the Laumeier Sculpture Park Collection by Adam and Judy Aronson.
The Lambert Art and Culture Program is led by a seven-member Airport Art Advisory Committee which selected the sculptures for exhibition. Current members are Shelley Hagan, Wells Fargo Curator Corporate Art; Laura Helling, Director of Development for Wings of Hope; Marilu Knode, Director of Laumeier Sculpture Park; Leslie Markle, Curator of Public Art, Mildred Lane Kemper Art Museum; Kiku Obata, Founding Principal of Kiku Obata & Co.; Roseann Weiss, Director of Community and Public Arts for the St. Louis Regional Arts Commission; and Freida L. Wheaton, Salon 53 and Founder of Alliance of Black Art Galleries.
About Laumeier Sculpture Park:
Laumeier Sculpture Park is a living laboratory where artists and audiences explore the relationship between contemporary art and the natural environment. Founded in 1976,Laumeier is one of the first and largest dedicated sculpture parks in the country, making it an institution of international significance as well as a unique complement to the cultural landscape of the St. Louis region. Laumeier is a nonprofit, accredited art museum that operates in partnership with St. Louis County Parks. Programs are supported by the Regional Arts Commission, Missouri Arts Council, the Arts and Education Council of St. Louis and the University of Missouri-St. Louis. Laumeier presents 60 works of large-scale outdoor sculpture in a 105-acre park available free to the public year-round, and serves 300,000 patrons annually through temporary exhibitions, education programs, public events and sculpture conservation.
Department:


St. Louis Lambert International Airport


Topic:


Airports