This article is 5 years old. It was published on February 14, 2017.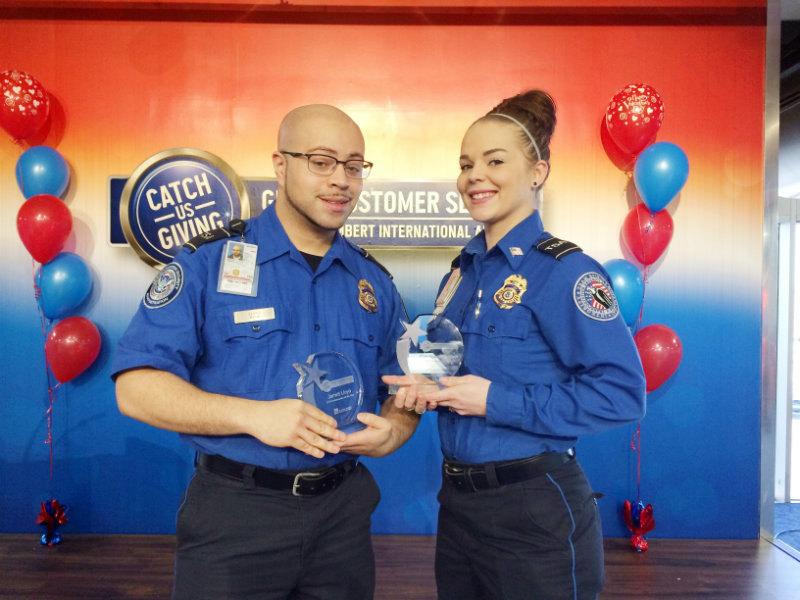 St. Louis -- For going above and beyond to show kindness and understanding to a passenger with Autism, St. Louis Lambert International Airport awarded the honor of customer service Ambassadors of the Year to Constance Zimmer and Jarrett Lloyd, Transportation Security Officers with the Transportation Security Administration (TSA). Airport Director Rhonda Hamm-Niebruegge surprised Zimmer and Lloyd with their award during the Catch Us Giving Annual Receptionon Tuesday.
Zenobia Perry, who nominated the two for the honor, gave a moving tribute to their act of service. She was joined onstage by her son, Ryan (24), who has Autism Spectrum Disorder. In December, Perry was traveling with Ryan for the holidays, a process which Perry described can be stressful with her son's disabilities. Because Ryan's speech is severely limited, he is unable to communicate how things are affecting him, requiring Perry to watch him closely in an attempt to read his body language. It became an emotional moment as recalled her encounter with Zimmer and Lloyd, "I can't begin to tell you how positive of an experience this was for us. Every moment we were graciously received," she shared. "Every person has a story; we each have a story, like you. The kind way that you greet and help us, makes a huge difference."
The Catch Us Giving Annual Reception also honored hundreds of other airport workers who were nominated for excellent customer service in 2016.
Catch Us Giving is a customer service recognition program developed exclusively for St. Louis Lambert International Airport and its facility partners. The program encourages the public to "catch" Airport employees giving great customer service and nominate them for customer service awards. The Catch Us Giving program received over 1,000 nominations in 2016, which highlighted airport workers for their hospitality, service, and efforts to go above and beyond to make a difference.
Catch Us Giving receives tremendous support from the local business community. The event's prime sponsors are Southwest Airlines, American Airlines, the Regional Business Council, Air Choice One, U.S. Bank and G2 Secure Staff. Other sponsors include ABM/Super Park and Hudson Group.
The event was hosted in Concourse B. The airport celebrated with complimentary food, live band, prize giveaways, photo booth, and candy bar. Attendees included airport executives, and employees from Airlines, Concessions, Tenants, TSA, and the Airport Authority. Now in its 7th year, the mission of the Catch Us Giving program is to unify the Airport Authority, tenants, contractors, airline employees and other partners in giving great customer service to STL's millions of travelers and visitors.
St. Louis Lambert International Airport served 14 million passengers and visitors in 2016. For more information on flights and services, visit www.flystl.com. Facebook/flystl; Twitter:@flystl

Department:


St. Louis Lambert International Airport


Topic:


Airports