This article is 5 years old. It was published on May 10, 2017.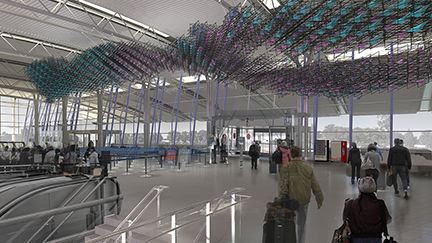 St. Louis Lambert International Airport is collaborating with graduate students at Washington University in St. Louis to create a 100 ft.-long public sculpture that will soon take flight in Terminal 2.
Over the last four months, eight students in the Graduate School of Architecture & Urban Design, part of the Sam Fox School of Design & Visual Arts, have digitally designed, modeled and constructed prototypes for a suspended sculpture that will feature colorful translucent polycarbonate sheets within a thin, wire-like lattice of hardened carbon fiber. It will be hang over the Terminal 2 Ticketing Lobby with installation set for the week of May 21.
"The students have researched, monitored and evaluated every factor of the terminal space to guide and inspire their design, construction and materials," says Jeff Lea, Coordinator for the Lambert Art & Culture Program, which is commissioning the sculpture. "The design speaks to our region and it evokes themes of airports, people and flight. We look forward to see thousands of passengers looking up, purposefully, toward the ceiling to get a glimpse of this new work of art."
SPECTROPLEXUS will be built from approximately 2,000 subassemblies based on a rhombic grid formed with wrapped spools of carbon fiber. They'll be joined together to form a single flowing, wavelike structure. Students even designed the collapsible molds that will be used for wrapping the carbon fiber structure. Polycarbonate panels will be cut using a 2D knife plotter in the Sam Fox School's Digital Fabrication Lab.
"Part of the premise of the studio is to develop processes that produce complex results through the clever management of more manual technologies," says Jason Butz, a lecturer in the Sam Fox School of Design & Visual Arts, who teaches digital fabrication with fellow lecturer Lavender Tessmer. "Each part must be calibrated not only against the digital model and the tools used to produce them, but against each other."
"The concept is based on the hybrid nature of flying machines," Tessmer explains. "The wing of an airplane is a mechanized form, but it's also a shape — like the wing of a bird — that we understand from the natural world. Carbon fiber is strong, rigid and lightweight, but it also behaves a little unpredictably. There's variability in the geometry. Polycarbonate is more predictable — it cuts the same every time — but the colored inks we're using dry very quickly, which gives the panels a lot of texture."
Over the next three weeks, students will work to fabricate the sub-assemblies, at the rate of about 100-150 per day. The Airport is working with the student team on the final details of installation which will likely be scheduled during overnight hours to reduce the impact on passengers and operations. The sculpture will hang for up to 18 months. More than seven million passengers travel through Terminal 2 every year. The art project is part of the Airport's temporary exhibitions program which is financially supported by the St. Louis Regional Arts Commission.
The partnership with Washington University on this unique art project was endorsed by STL's Airport Art Advisory Committee: The current committee is represented by Lisa Cakmak, Associate Curator of Ancient Art at Saint Louis Art Museum; Ellen Gale, Executive Director of Clayton Chamber of Commerce; Shelly Hagen, Curator of Corporate Art Resources at Wells Fargo; Leslie Markle, Curator for Public Art at Washington University; Kiku Obata, President & CEO for Kiku Obata & Company; Roseann Weiss, Director of Community and Public Arts at the Regional Arts Commission of St. Louis; and Carlos Zamora, Creative Director at Express Scripts. 
Additional Media Contact
Washington University In St. Louis: 
Liam Otten
Senior news director, Arts & Humanities
Public Affairs
Washington University in St. Louis
(314) 935-8494
Liam_Otten@wustl.edu