Greetings:
This coming Sunday, October 14, will be Festival time in Ward 20 with two great events one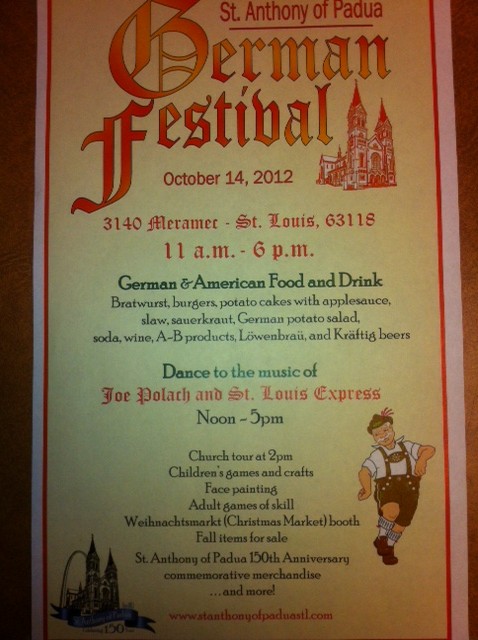 block apart:  As part of its year long celebration of 150 years at Meramec and Compton, St. Anthony of Padua Catholic Church will be celebrating its 150th anniversary with a German Festival from 11 a.m. to 6 p.m..  Come have German and American food and drink (Bratwurst, burers, potato pancakes with applesauce, slaw, sauerkraut, German potato salad, soda, wine, Anheuser-Busch In-Bev products, Löwenbräu, and  Kräftig beers.  Dance to the music of Joe Polach and St. Louis Express (noon to 5 p.m.).
Tour the beautiful, historic Romanesque St. Anthony of Padua Church building (over 100 years old) complete with stunning Emil Frei stained glass windows at 2 p.m.   
Children's games, face painting, adult games of skill, Weihnachtsmarkt (Christmas Market) booth, fall items for sale; 150th anniversary commemorative merchandise.

See:  http://www.stanthonyofpaduastl.com/150years.php 

Thanks,
Craig
Department:


Board of Aldermen


Topic: