After the census, all legislative bodies are required to redraw the legislative districts to represent the new population figures for each district. The City of St. Louis has 28 wards as directed by the City's Charter. Therefore, each ward must represent an average of 11, 403 residents. The task for redrawing the boundaries is assigned to the Legislation Committee.  
The committee, chaired by Alderwoman Phyllis Young with Alderman Terry Kennedy acting as vice chairman, has successfully completed this process and voted the bill from the committee. It will now go onto the full Board of Aldermen for consideration; however, with 28 co-sponsors, there is little doubt of passage. 
The two goals of the group were that (1) the process would be participatory and (2) that no ward would move significantly from its current area. With that in mind, President Lewis Reed and Alderwoman Young met with each alderperson to discuss each ward's base of population, priorities for that alderperson, and current development areas. After those meetings were completed, aldermen were brought in as small groups representing adjacent wards to discuss common boundaries and to negotiate the new lines. This process continued for the past two months to lastly redefine the boundaries. 
The map that you may view here represents the final product of the redistricting process. The initial goals were achieved as members of the Board of Aldermen have actively engaged with one another in accomplishing the task.

Click Here To download a PDF of the proposed ward boundaries.
Board Bill 2, Floor Substitute
(updated June 30, 2011)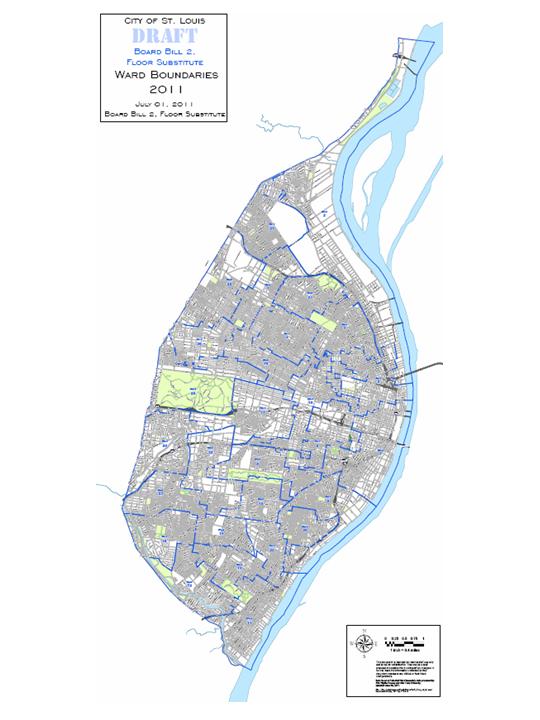 Department:


Board of Aldermen


Topic: