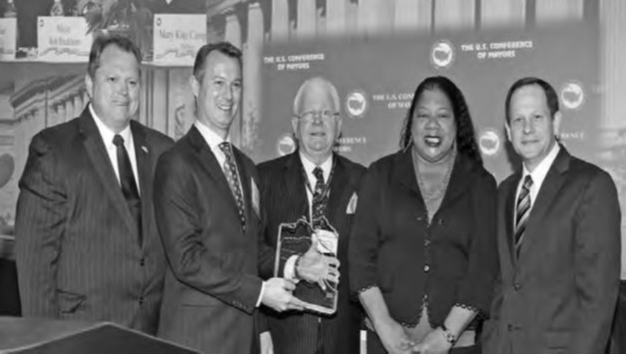 Comptroller Chief of Staff Elaine Spearman and Mayor Slay (pictured), along with St. Louis 457 Committee Members, Personnel Department and City employees were recognized for offering and participating in a "Best in Class" 457(b) Retirement Program. The award was presented by Columbia, SC Mayor Steve Benjamin and Great-West Financial Government Markets Vice President Brent Neese (also pictured). 
The City of St. Louis has worked hard in assisting our employees in achieving retirement readiness and the City's plan has a high participation rate. It also provides top tier employee education, and has received the National Association of Defined Contribution Administrators (NAGDCA) Leadership Recognition Award for the years including 2013, 2010 and 2007. 
"Great-West Financial is proud to partner with the city and we are committed to helping their employees reach a bright tomorrow where retirement is only the beginning," says Neese as he honored St. Louis. 
Great-West Financial and the Employees Retirement System of the City of St. Louis are holding a free seminar to help employees prepare and make informed choices about retirement. These seminars will be held on Tuesday, April 8th and Wednesday, April 9th. The address is Soldiers Memorial, 1315 Chestnut, 2nd Floor, 63103. RSVP by Friday, March 28th by calling 314-241-1334. 
Department:


Office of the Comptroller


Topic: