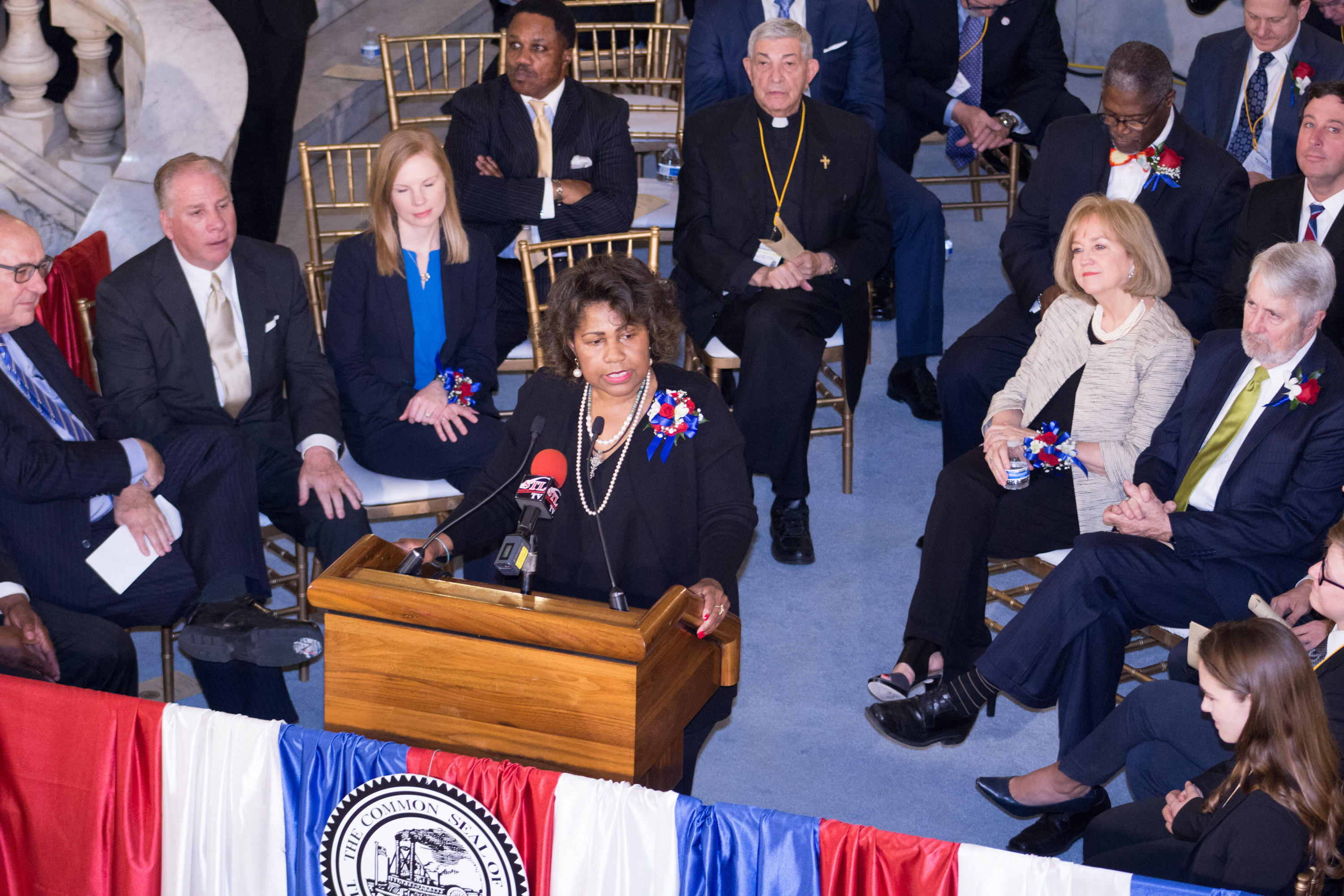 I want to thank the voters of the city of St. Louis for having enough confidence in me to honor me with a win of 79 percent in the primary and 86 percent in the general election. In other words, I thank the voters for a landslide victory!
As the city's first woman elected as comptroller, I am honored that I will now serve alongside our first female mayor. It is important for our community, especially our young people, to see that both men and women can serve in the top jobs of city leadership. Our young people need to realize that they can dare to have big dreams.
As I reflect on my journey as Comptroller, I could talk about my strong fiscal management that saved the city more than $100 million tax dollars. I could remind you that in 2008 when the economy went down our credit rating went up. Or, I could tell you that it was my foresight to implement a rate stabilization fund that helps mitigate rates and charges at the airport.
I could tell you IKEA opened in Midtown and Cortex continues to grow and draw exciting new employers. And yes, we kept the NGA jobs in St. Louis. The NGA-West headquarters will be a key part of our emerging 'Downtown North' neighborhood .
I could also talk about the calls I have received from the White House with job offers. In 1997, just after having been sworn in to my first full term, I was called and offered a job by the women of the White House to join the Clinton administration; and in 2009, the Obama White House called to offer me a CFO position after the US Treasurer position went to someone else.
While I was delighted to receive the calls from Washington DC, I am even more excited to know that I have answered the call of public service and have served well – right here in my hometown.
This election, where I won in all 28 wards, has not only given me a vote of confidence, but also I have a mandate and a responsibility to do what is in the best interest of the people and their tax dollars.
The voters spoke truth to power with their votes. And voters, I hear you.
First, I pledge to work with the Mayor, civic, and city leaders to address the issue of crime in our city and make our streets and our neighborhoods safer. Second, I pledge to work with the Mayor and city leaders on how we can streamline developer incentives. Third, I pledge to work with city leaders to reduce costs throughout city government and enhance city revenues.
Gun violence in 2015 and in 2016 was on the rise in St. Louis city. Our communities have too many guns, and not enough jobs; too much poverty, and not enough educational or recreational opportunities. Some aspects of our culture seem to be worsening every day, with people whose first instinct is to lash out at others instead of coming together.
In February, I announced a citywide crime prevention fund as an additional tool to address violence in our city. I plan to work with city leaders to reach out to the business community and gain their support as partners to supplement budgeted resources to not only combat crime in all the neighborhoods of the city, but also reduce the number of vacant buildings.
As we seek to partner with businesses to support safer neighborhoods, we must to do more to reduce costs inside city government. I'm asking city leaders to support the budget office and the Board of E&A as we work to streamline travel costs, cell phone costs, credit card costs, and city cars.
I will work with city leaders on a plan I call 'Come back St. Louis' that will put bankers, real estate brokers, LRA, and first responders together to renovate vacant buildings and make our neighborhoods safer.
Another challenge we face as a city is how to fund essential city services and at the same time promote growth and development. As Comptroller, I'm faced every day with decisions on how to protect the city's financial assets; protect the good credit of the city; and protect the dollars that taxpayers have entrusted to elected leaders.
Over the years it has become clear that the city needs to be more consistent and systemic in how it addresses developer incentives. Our default action must not be to give away every tax dollar or to make every TIF, every tax abatement, or every CID the maximum.
We must start from a position of strength. Make clear to developers that the city will not subsidize non-essential projects at the maximum. We'll work with you – but we are not desperate and we won't give away resources that should go to essential services for our citizens.
I encourage the Mayor and the Board of Aldermen to work with me to streamline developer incentives; to utilize community benefit agreements and seek inclusion, racial equity and social justice while being more fiscally responsible to city taxpayers.
We can have a clean, safe city and create a welcoming environment for new homeowners and new businesses if we work together to achieve it.
St. Louis' lights are still on and we have hope and our future shines oh so bright! Thank you and God bless you.
Contact Information:


Tyson Pruitt
Public Information Officer to the Comptroller
Office Phone: (314) 613-7360

Department:


Office of the Comptroller


Topic: