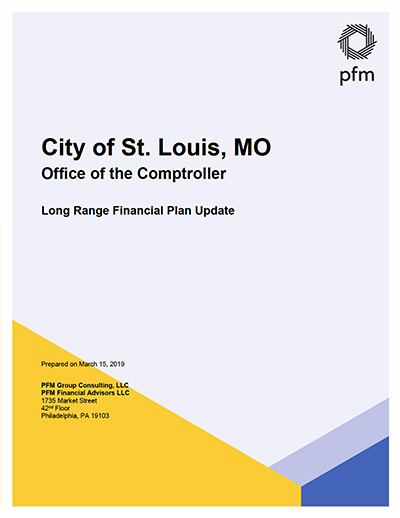 St. Louis Comptroller Darlene Green issued the 2019 update to the city's Long Range Financial Plan. The report was approved by the Board of Estimate and Apportionment (E&A) today, March 20.
Building on a longstanding commitment to fiscal responsibility and sustainability, the 2019 report updates and succeeds the report approved by E&A in September 2015. The Comptroller's Office engaged Public Financial Management, Inc. (PFM) to develop both reports.
The 2019 report finds that since the city's 2015 Long-Range Financial Plan was completed, St. Louis has achieved meaningful progress, including:
Investment in the local economy and tax base, including the selection of St. Louis as the site for the NGA West Campus, downtown revitalization projects like Ballpark Village II and the Gateway Arch, and new developments in Cortex and the BJC and Saint Louis University medical campuses.
More cost-effective government by finding ways to provide healthcare and retirement benefits more cost-effectively.
Regular capital investment for core city functions and services through voter-approved no-tax-increase bond issuances in 2016 and 2018.
Rebuilding reserves to a minimum 5 percent threshold that were drawn down during the Great Recession.
As with most state and local governments nationally, the report finds additional challenges remain to address ongoing structural budget pressures, infrastructure needs, and balance sheet concerns.
The report is available as a PDF for download at www.stlouis-mo.gov/comptroller. 
Comptroller Darlene Green is the chief fiscal officer of the City of St. Louis and is charged with safeguarding the city's credit rating and with protecting taxpayer dollars. Visit www.stlouis-mo.gov/comptroller to learn more about the Office of the Comptroller.
Contact Information:


Tyson Pruitt
Public Information Officer to the Comptroller
Office Phone: (314) 613-7360

Department:


Office of the Comptroller