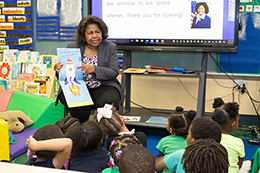 On April 27, St. Louis Comptroller Darlene Green made a visit to Lexington Elementary School during Week of the Young Child. While at Lexington Elementary, Comptroller Green read to students in two preschool classes and wished them a very special week.
The Week of the Young Child is an annual celebration hosted by the National Association for the Education of Young Children (NAEYC) celebrating early learning, young children, their teachers and families.  
NAEYC first established the Week of the Young Child in 1971, recognizing that the early childhood years (birth through age 8) lay the foundation for children's success in school and later life.
Department:


Office of the Comptroller


Topic:



Video
No YouTube videos found