This article is 8 years old. It was published on June 10, 2014.

During the school year, thousands of the City's children are provided breakfast and lunch at school. But, over the summer months, many of these students do not have access to a nutritious breakfast or lunch. To help meet their needs, the City's Department of Human Services is again sponsoring "School's Out Café," a summer meal program, funded by the U.S. Department of Agriculture.
The City is able to serve nearly 400,000 breakfast and lunch meals to students this summer.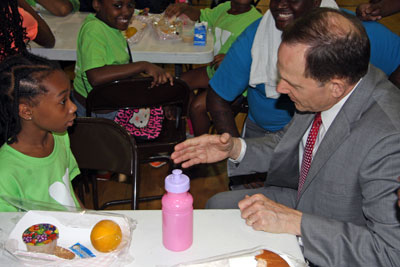 "No child should ever go hungry," said Mayor Slay. "Providing meals over the summer to children in need helps families fill the financial gap when school lunches end."
Mayor Slay and Gary Schlansker, president and CEO of the YMCA of Greater St. Louis, will kick off the Summer Food Services Program during the School's Out Café lunch hour on June 11, 2014, at 11:00 a.m. at the Monsanto Family YMCA located at 5555 Page Ave. in St. Louis, a summer Café location.
"Youth Development and Healthy Living are two of the Y's key focus areas, and good nutrition is a huge part of both of those.  In fact, nutrition is one of the most important factors in a child's healthy growth and development – physically, mentally and academically," said Schlansker. "Through the Monsanto Family Y, we are proud to have this longstanding partnership with School's Out Café, which is addressing an important need in communities across the City."
The City of St. Louis has recruited, trained and is sponsoring 81 volunteer sites that will serve meals at School's Out Cafes now through August 8, 2014. Anyone 18 years or younger is eligible to eat.  In addition, people who have been determined by a state or local educational agency to have a mental or physical disability are also eligible.
Along with the City, other organizations and jurisdictions are stepping forward to ensure no child goes hungry. St. Louis County Department of Human Service, the Dream Center, and Operation Food Search will also offer sites in Dent, Pike, Montgomery and St. Charles counties. It is not too late for additional volunteer sites to join the effort to feed children in all neighborhoods.
To find a meal site near you, call the United Way at 211 or (800) 427-4626.
To learn more about the City's program or to get information about opening a site in your area, contact the Department of Human Services - Youth Nutrition Office at 314.657.1695 or visit www.stlouis-mo.gov.
About the YMCA of GreaterSt. Louis
The YMCA of Greater St. Louis is a nonprofit organization dedicated to youth development, healthy living and social responsibility. With 17 traditional Y branches and two Campus Y student leadership facilities on the Missouri side of the St. Louis Metro Area, our Y also includes YMCA Camp Lakewood and Trout Lodge in Potosi, MO. The Carondelet Park Rec Complex and the O'Fallon Park Rec Complex are owned by the City of St. Louis and operated by the Y. Our Y is a proud member of the United Way. For more information please visit www.ymcastlouis.org or call 314-436-1177.
Department:


Department of Human Services
Office of the Mayor