This article is 4 years old. It was published on July 31, 2018.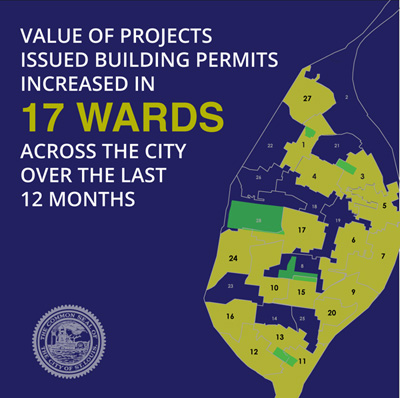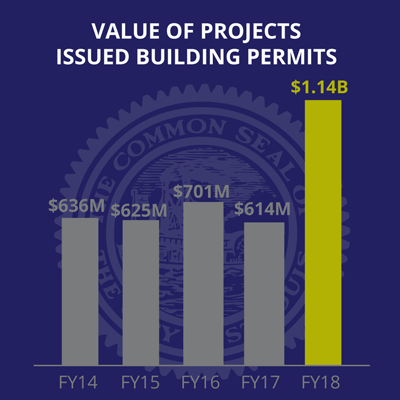 The City of St. Louis issued construction permits for projects valued at $1.14 billion in the 2018 fiscal year, setting a new high and signaling an increased appetite for investment.
Between July 1, 2017 and June 30, 2018, the City issued 5,396 building permits for projects totaling $1,142,040,378 in value — a $528 million increase over the previous fiscal year. 
"These numbers are very encouraging. It shows that developers, investors and business leaders are bullish on St. Louis," Mayor Lyda Krewson said. "It's exciting to see that attitude reflected in not just in words, but in actions. I love seeing all the construction dumpsters around town." 
The building permits issued include new construction and rehabs of both residential and commercial property, in addition to smaller permits for alterations or additions. 
The permits issued in fiscal year 2018 also reflect some major projects underway, including the new St. Louis University hospital campus, the 100 N. Kingshighway development, Ballpark Village Phase II, and St. Louis Community College's new Center for Nursing and Health Sciences.
Beyond these new, large-scale construction projects, small- and medium-scale rehabs have also been a significant source of development over the past 12 months.
Of the 7,322 housing units issued permits, 86 percent are located in rehabilitated buildings.
Areas including the Cortex Innovation District and parts of the Botanical Heights, Central West End, Cheltenham, Forest Park Southeast, Kings Oak, Midtown and Tiffany neighborhoods, have drawn particularly strong interest, with a total investment value of $556 million for the fiscal year. 
Development growth has not been limited to the central corridor. In fiscal year 2018, 17 wards across the city exceeded the total building permit value compared to the previous fiscal year. They include Wards 1, 3, 4, 5, 6, 7, 9, 10, 11, 12, 13, 15, 16, 17, 20, 24 and 27. 
Additional Information