This article is 7 years old. It was published on May 1, 2015.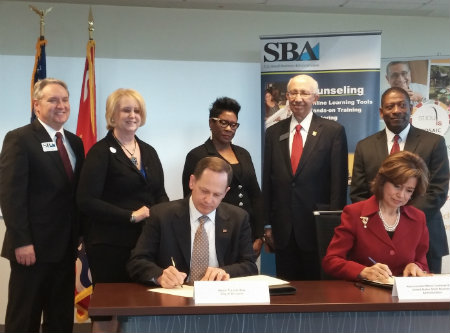 St. Louis Mayor Francis Slay joined Administrator Maria Contreras-Sweet, head of the U. S. Small Business Administration (SBA) and member of President Barack Obama's Cabinet, today to sign an agreement to promote entrepreneurship to immigrants in St. Louis.
The agreement will foster cooperative efforts between the City of St. Louis and the local SBA office in St. Louis to boost outreach on entrepreneurship training and counseling and small business development in St. Louis neighborhoods, with particular emphasis on immigrant and refugee communities.
The collaborative effort comes on the heels of the recently released New Americans Report, a strategic, government-wide effort on integrating these communities. The SBA is working with the City, the St. Louis Mosaic Project and the St. Louis Economic Development Partnership to promote this initiative.
"St. Louis has a rich history of being the new home for people who had to leave their countries of origin due to war or lack of opportunity or for other reasons," Mayor Slay said. "During its rich history, St. Louis has welcomed waves of immigrants from countless countries. St. Louis has always done its best to help new Americans take advantage of all that we have to offer. This new agreement will allow us to focus even more on providing opportunities and removing obstacles in entrepreneurship for immigrants." 
###
Department:


Office of the Mayor