This article is 9 years old. It was published on April 26, 2013.

St. Louis has had just four Mayors who have served three four-year terms: Henry Kiel (1913-1925), Raymond Tucker (1953-1965), Vince Schoemehl (1981-1993) and Mayor Slay (2001-present).
Mayors Tucker and Schoemehl first took their oaths of office on April 21st (1953 and 1981, respectively). They were succeeded by Mayors Cervantes and Bosley, who were inaugurated on April 20 (1965 and 1993, respectively).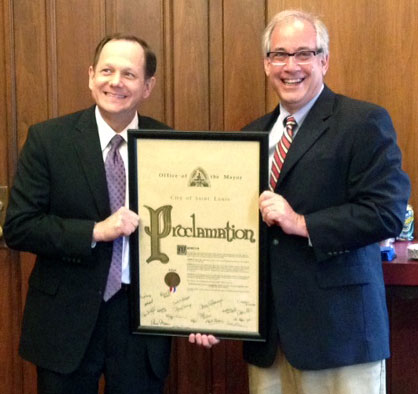 Mayor Slay deliveers many proclamations every year, so his staff thought it fitting that he receive one himself (signed by his staff), proclaiming Saturday, April 27, 2013 "With Francis G. Slay's Leadership, Today is a Day to Make History Day.
A mayor serves from the time he or she is elected and qualifies, until his or her successor is elected and qualifies. The days in office are counted from the date of inauguration, to and including, the date of his successor's inauguration. By that method; Mayors Tucker and Schoemehl each served 4,383 days.
Mayor Kiel was first inaugurated on April 12, 1913 and his successor, Mayor Victor Miller was inaugurated on April 21, 1925. In other words, Mayor Kiel's inaugural date was 9 days earlier than Mayors Tucker's and Schoemehl's inaugurals. Mayor Kiel's successor's inaugural was one day later than the inaugurals of their successors -- all of which suggests Mayor Kiel served 10 days longer than Mayors Tucker and Schoemehl.
From his inaugural day, to and including the day his successor qualified, Mayor Kiel served 4,393 days in office.
Mayor Slay was first inaugurated Mayor of the City of St. Louis on April 17, 2001. He is the only Mayor elected to 4, four-year terms.  
This Saturday, April 27, 2013, will be his 4,394th day in office, making him the longest serving Mayor in St. Louis History.
- Eddie Roth
Department:


Office of the Mayor


Topic: