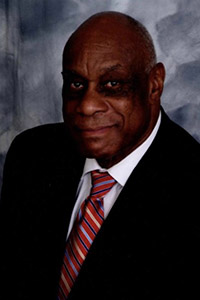 Today, Mayor Tishaura O. Jones announced the appointment of former Laclede Gas senior vice president John Moten Jr. as Interim Director of the City of St. Louis Department of Personnel. A respected and trailblazing business leader, Moten has extensive experience in human resources and community relations.
"I am honored to serve in this up to 6-month provisional role at the Department of Personnel as the Civil Service Commission continues the search for a permanent director," said Moten. "I look forward to working alongside department employees to build a strong foundation for Personnel's next director."
Per Civil Service Commission rules, Moten will serve in this role for a maximum of six months. He will work alongside the Commission in the ongoing search for a permanent replacement for former Personnel Director Richard Frank, who retired in December. Moten has previously served on search committees for St. Louis Community College President, the Missouri Commissioner of Education, and the Superintendent of St. Louis Public Schools. He has also served as chair of the Missouri Commission on Human Rights (MCHR), develops, recommends, and implements ways to prevent and eliminate discrimination through enforcement of the Missouri Human Rights Act.
The Department of Personnel handles all Civil Service hiring for the city, producing lists of candidates from applications and passing on to departments for interviews and final selection. The department falls under the supervision of the Civil Service Commission, which is composed of three voting members, appointed by current and past mayors of St. Louis.
A Laclede Gas employee for 40 years, Moten entered the company as chief chemist in 1962 and rose through the ranks to become senior vice president of operations and marketing in 2001, where he oversaw 2,000 employees. Since 2003, he has provided leadership training and consulting services to clients including Wells Fargo Advisors, Emerson, the Deaconess Foundation, and the St. Louis Regional Health Commission. A St. Louis native, Moten holds a bachelor's degree from Morehouse College and attended Washington University in St. Louis' School of Chemistry. 
Contact Information:


Nick Dunne
Public Information Officer
Office Phone: (314) 622-4072

Department:


Office of the Mayor
Department of Personnel