This article is 7 years old. It was published on August 12, 2015.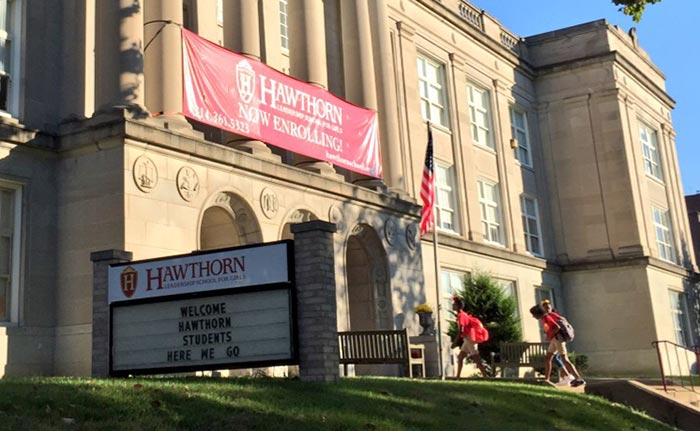 ST. LOUIS -- The City of St. Louis has seen growth in academic performance and enrollment in public schools, reversing a nearly half-century trend. Today Mayor Francis Slay greeted sixth and seventh graders at Hawthorn Leadership School for Girls, one of eight new public charter schools open this school year in the City of St. Louis.
There are now 34 charter schools in the City of St. Louis that are working to improve the quality of public education. Given the growth of quality charter schools and with the addition of pre-k and new schools from St. Louis Public Schools, public school enrollment has increased in for the first time in 50 years.
According to the most recent data, charter schools and St. Louis Public Schools (SLPS) together have doubled the number of performing public school seats in the City of St. Louis in the last five years. The study found 36 percent of the children in the City are attending a school that meets state standard. In 2008, only 18 percent of City students were in schools that met half state standard or better.
"Quality public schools are essential to the growth and sustainability of our City," Mayor Slay said. "Not only do they provide a pathway to the middle class, but they strengthen our communities, make neighborhoods safer, and provide another reason to live in the City and raise a family in a diverse and thriving community. Good schools are also good for business and growing communities, because it's important for families seeking a place to live to know that they can invest in a home and get their child into a great school."
Mayor Slay's Office is working to make sure that all children in the City of St. Louis have access to a performing school, starting by identifying where children live and what school options are nearby. Using that information, the Mayor's Office helps identify where schools are needed most in order to help direct new charter schools to the priority areas.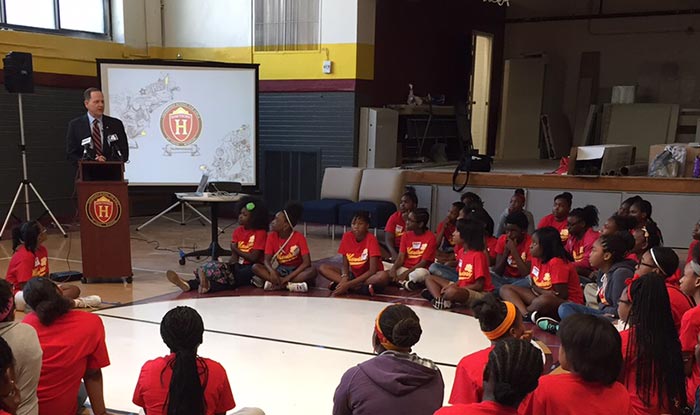 Charter schools and SLPS are increasing free education options for families who want to live in the City. Each kind of public school option – be it a select school, a magnet school, a neighborhood school, or a charter school – has contributed to the overall increase in performance and in enrollment. Parents want good choices. And now, they can more readily find them in the City of St. Louis, in large part thanks to the dedicated schools, their sponsors, teachers and staff, along with engaged parents and communities.
"We have a long road ahead of us, but this proof that we are headed in the right direction," Mayor Slay said. "Our kids are our greatest asset. Quality education and quality choices for parents will make our neighborhoods stronger and strengthen our City. Quality is a magnet. We have a moral obligation that the kids in our City get a quality education to compete in a global economy."
These eight new schools join the ranks of 34 public charter schools open in the City of St. Louis, each expanding the number of quality school options in our neighborhoods:
The Biome School, sponsored by the University of Missouri -- St. Louis, expands on successful technology-based after school and summer programming for students by Biome School founder Youth Learning Center.
EAGLE Preparatory Academy Fox Park and EAGLE Preparatory Academy Tower Grove East, sponsored by the University of Missouri, have plans to expand their schools to serve students K-8. These schools incorporate blended learning, taking advantage of computer-aided instruction and traditional classroom teachings.
Hawthorn Leadership School for Girls, sponsored by Washington University, is the first all-girls STEM school in Missouri. Education for the sixth and seventh grade students focuses on science, technology, engineering, and math. This school will grow into a high school. Washington University in St. Louis sponsors KIPP.
KIPP Wisdom Elementary School and KIPP Triumph Middle School are the third and fourth KIPP: St. Louis schools, which are sponsored by Washington University. KIPP became chartered in the City in 2009 and committed to opening five schools in the City over time.
LeSalle Middle School, sponsored by the University of Missouri, is the first conversion in the state of an independent parochial school to a charter school.
South City Preparatory Academy High School, sponsored by the University of Missouri -- St. Louis, has expanded from a middle school to add high school classes.
Where to Find Them
The Biome School
https://thebiomeschool.org/
4471 Olive Street, Saint Louis, MO 63108
(314) 531-0982
EAGLE Preparatory Academy Fox Park
http://eagleprep.org/stlouis
2617 Shenandoah Ave, St Louis, MO 63104
(314) 664-7627
EAGLE Preparatory Academy Tower Grove South
http://eagleprep.org/stlouis
3716 Morgan Ford Road, St. Louis, MO 63116
(314) 664-7627
KIPP Wisdom Elementary School
http://www.kippstl.org/
2647 Ohio Ave. | St. Louis, MO 63118
(314) 385-9561
KIPP Triumph Middle School
http://www.kippstl.org/
955 Arcade Ave., St. Louis, MO 63112
(314) 454-9255
LaSalle Middle School
http://lasallecharterschools.org/
4145 Kennerly Ave., St. Louis, MO 63113
(314) 531-9820
South City Preparatory Academy High School
http://www.southcityprep.org/
1224 Grattan Street, St. Louis, MO 63104
(314) 561-3440