This article is 2 years old. It was published on February 4, 2020.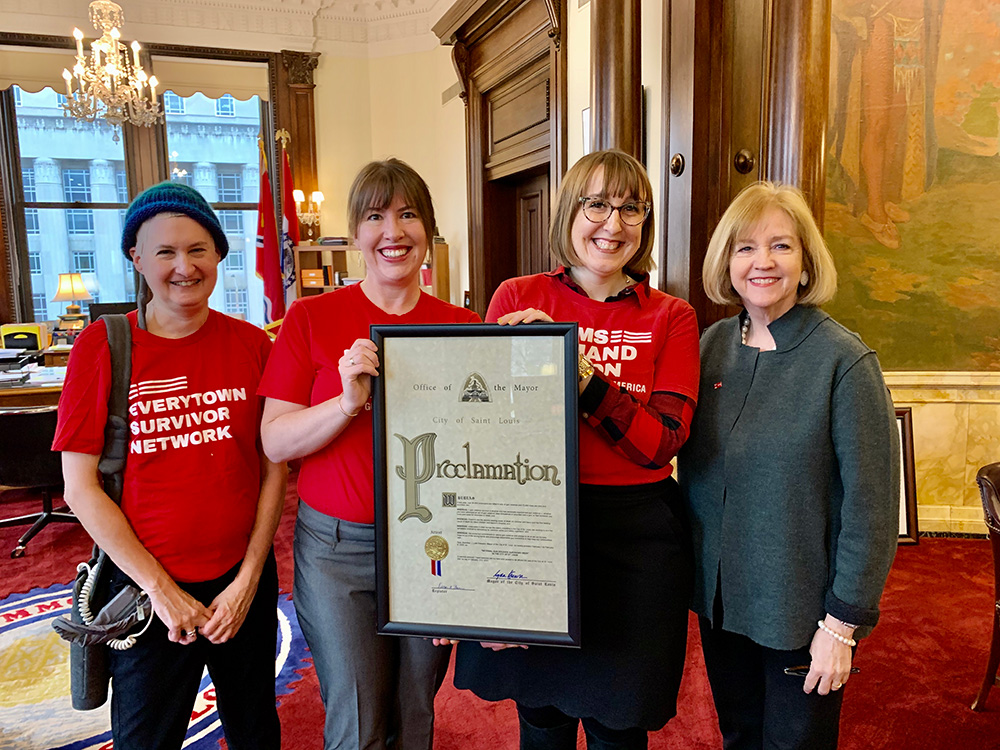 Mayor Lyda Krewson today issued a proclamation declaring the week of February 1, 2020 to February 8, 2020 in the City of St. Louis to be "National Gun Violence Survivors Week." In issuing the proclamation, she was joined by members of the St. Louis chapter of Moms Demand Action, a grassroots movement of Americans fighting for public safety measures to protect people from gun violence.
Mayor Krewson, whose husband was tragically murdered almost 25 years ago, is a survivor of gun violence herself. She shared a brief part of her story this year with Everytown, a movement of Americans working together to end gun violence and build safer communities. You can read the full version of her entry here:
March 23, 1995 was a pretty ordinary Tuesday night for me, my husband, Jeff, and our two kids, who were just five and two-years-old at the time. We had all eaten dinner at home. And then it was off to Target. Our family was planning an upcoming camping trip, and the kids needed some new river shoes. While we were shopping, though, our son, the two-year-old, started having a total meltdown so we decided it was time to go. But his temper tantrum didn't end there. He was still really fussy when we were loading up the car so I decided to sit in the back with him and our daughter. Looking back now, that decision may have ultimately saved my life.
It was about 8:30 at night when we pulled up to the house, and I remember seeing out of the corner of my eye a man outside who I didn't know. I'm sure Jeff saw him for a lot longer than I did because as we were trying to park, the man came up to the driver's side window with a long gun. Jeff tried to throw the car into reverse to get us away, but the man fired a shot and struck Jeff in the neck. The shot also went across the front passenger side of the car and struck the passenger side window. Had I decided to sit up front with my husband – and not in back with the kids – I probably would've been shot as well.
By this time, our neighbors had heard the gunfire and commotion outside. This was all pretty unusual for our neighborhood so they had called 911, come running outside and then helped me with the kids as police started to arrive. I ended up going with Jeff in the ambulance to the hospital, and I remember asking when we got there if he was going to make it. They told me he had already passed. So just like that, I was now a widow and a single mother with two young, traumatized kids whose father had been senselessly murdered in front of our home. Jeff and I had only been married seven years.
After dealing with such unimaginable and unexpected heartbreak, I doubt many people would've faulted me for packing up the kids and leaving St. Louis. But we never ran away. Instead, motivated in part by my own personal tragedy, I later ran for office and now have the distinct honor of serving as the first woman Mayor of this great City. And I'm proud to say one of my highest priorities in office has been combating gun violence at the local level and working with law enforcement to hold offenders accountable.
Sadly, St. Louis is like many other major American cities right now. We have too many lives being cut short, and too many families being torn apart, because of guns. Having been raised in rural Missouri, I certainly understand why many people feel they have the right to be armed, but our urban settings are vastly different and ought to be legislated differently. As Mayor, I get a text message from police every time there's a shooting. And let me tell you, I get too many text messages. 
So while I am keenly aware of the increasing availability of guns on our streets, I also want you to know this about St. Louis. Every day, we are fighting to keep deadly weapons out of the hands of people who just shouldn't have them, we are addressing the root causes of violence through increased opportunities and expanded services, and we are supporting the victims of the gun violence epidemic and their families to the fullest extent possible. In honor of National Gun Violence Survivors Week, I share my personal story of loss to honor and amplify all the individual stories of America's gun violence survivors. You are not alone.