This article is 4 years old. It was published on July 17, 2018.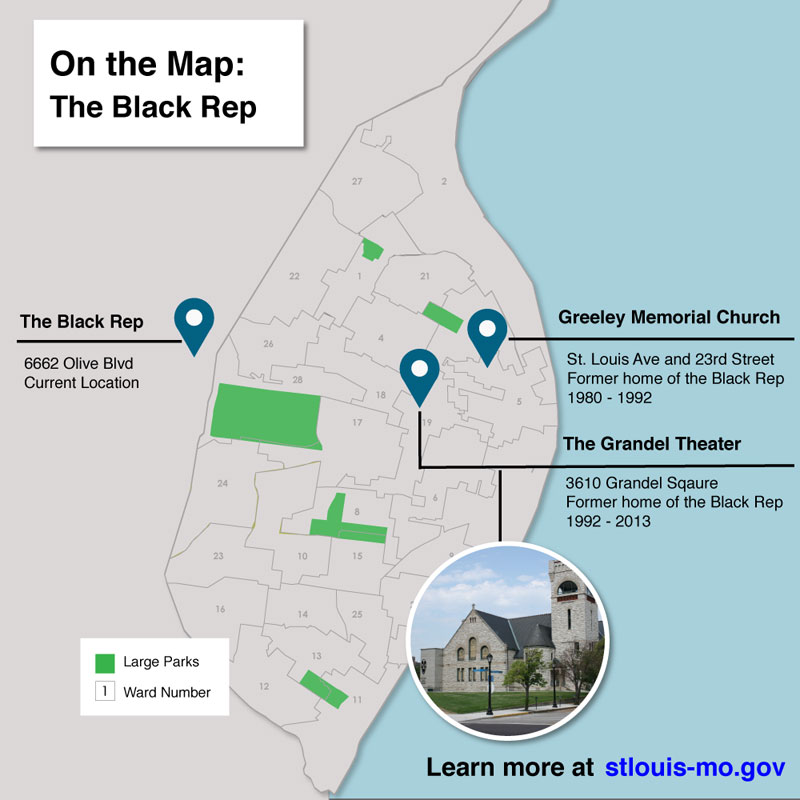 Too often the history of our city goes untold. The streets we walk down or houses we pass have a storied past that is sometimes forgotten. To commemorate Black History throughout the year, we will be sharing the stories of places in our city that in one way or another have been home to the rich history of Black St. Louisans.
This edition of On the Map focuses on the St. Louis Black Repertory Company, the premiere professional black theatre company in the country.
In 1976, Ron Himes was a Washington University student with a strong interest in local theater. At each performance, Himes was struck by the lack of diversity among the performers and audience. He set out to build a space for black actors and black stories, and over the last 40 years has transformed the Black Rep from a university student group into the largest, professional black theater company in the United States.
During its early years, the Black Rep toured the country, performing at college campuses, community centers, and theater festivals, drawing large crowds to all of its performances. In 1980 the company settled permanently in St. Louis, taking up residence at the converted Greeley Presbyterian Church at the corner of St. Louis Avenue and 23rd Street.
Throughout the 1980's, the Black Rep expanded its offerings, presenting works by regional dance companies and showing a musical film series. Eventually, the company decided to focus primarily on black live theater, and has since hosted over a dozen world premieres of works by acclaimed black playwrights, including Wole Soyinka, Mbongeni Ngema, and August Wilson.
In the early 1990's the Black Rep relocated to a new home at the Grandel Theater in Grand Center, where they performed until 2013 when the building was sold to a new owner. The company draws crowds of more than 25,000 annually, and is proud to have the most diverse audience and theater troupe in St. Louis. The Black Rep also works to educate local students and adults through its award-winning Education and Community Program, which reaches 80,000 each year through classes, workshops, and its Summer Performing Arts Program.
The Black Rep is a one of St. Louis' most treasured cultural institutions, and we are lucky to have such dedicated and talented performers showcasing important works from across the globe. The Black Rep strives to both preserve our nation's long history of black playwrights and performers, while also making space for the next generation of inspiring and thought-provoking black artist, and we thank them for their work. 
Learn more about The St. Louis Black Repertory Company