This article is 5 years old. It was published on August 15, 2018.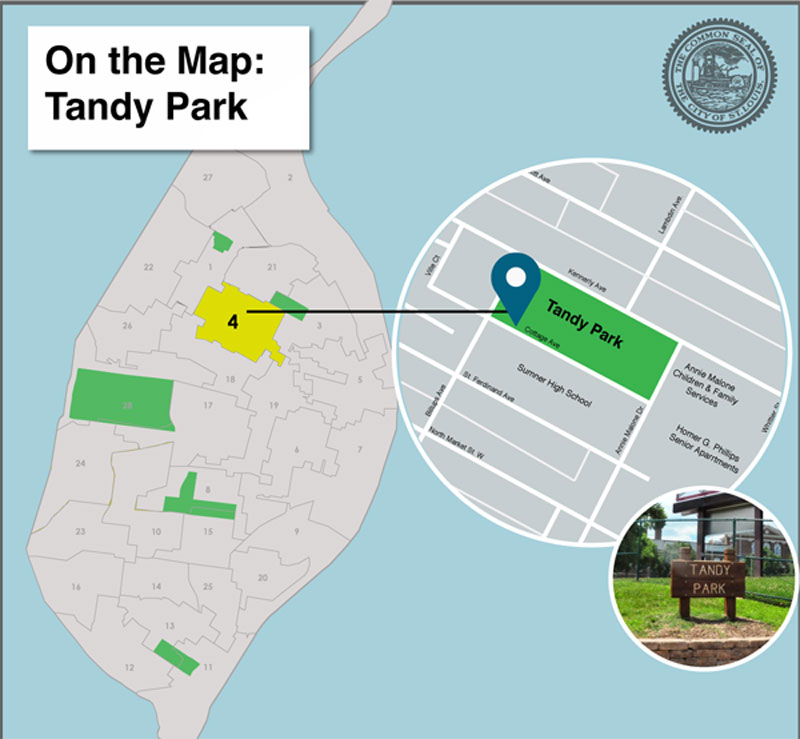 Too often the history of our city goes untold. The streets we walk down or houses we pass have a storied past that is sometimes forgotten. To commemorate Black History throughout the year, we will be sharing the stories of places in our city that in one way or another have been home to the rich history of Black St. Louisans.
This month, the On the Map series focuses on Captain Charlton H. Tandy Park. Located in the Ville neighborhood, it is named for Charlton Tandy, a Civil War veteran and tireless crusader for civil rights in St. Louis and across the country.
Charlton Tandy was born in Lexington, Kentucky in 1836 to freed slaves. His grandparents purchased his family's freedom just three years before his birth. Tandy and his family used their newfound freedom to help slaves escape across the Ohio river and into the North. Tandy never forgot those early experiences fighting for freedom for other African Americans, and would continue to work for their rights throughout his life.
Tandy moved to St. Louis in 1857, just a few years before the outbreak of the Civil War. He served bravely in 13th Regiment of the Missouri State Militia, earning the honorific title "Captain," which he carried with him for the rest of his life. After the war, Captain Tandy held several appointed positions for the federal government in St. Louis, including custodian of records for the St. Louis Courthouse and messenger for the U.S. Custom House. However, Tandy's greatest achievements were the gains he made for black Missourians and St. Louisans throughout his long life.
In 1870 Tandy helped establish Lincoln University, the first higher education institute for African Americans in Missouri. Tandy successfully fought to get black educators into St. Louis Public Schools, and to desegregate the St. Louis streetcar system. He is perhaps best remembered as a champion of the "Exodusters," poor African-Americans from the south who moved to the midwest to escape economic hardship and racial prejudice. Tandy raised funds to feed, clothe, and resettle these migrants as they escaped persecution. He traveled throughout the country, urging politicians to help fight injustice in the South. He was active in politics and encouraged black Americans to vote and run for office by founding political clubs across the United States.
Captain Charlton H. Tandy died in St. Louis in 1919, but is still celebrated for his unending fight for civil rights. In 1938 the Charlton Tandy Recreation Center and Park were founded in the Ville neighborhood, and continue to serve the community to this day.
Captain Tandy serves as an example of the importance of civic engagement and reminds us that we must always fight for what we believe in and know is right.
Learn more:
Find out more about Tandy Park in St. louis